Mercedes-Benz Model K goes under the hammer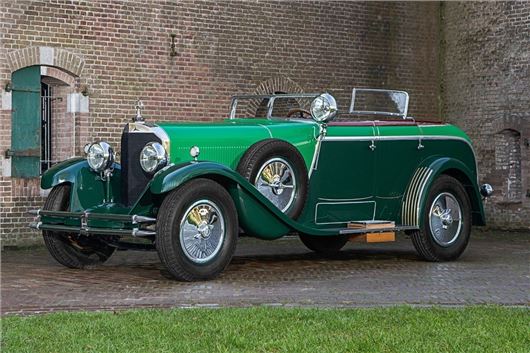 Published 04 March 2016
A 1928 Mercedes-Benz Model K looks set to grab the headlines at Bonhams' Mercedes-Benz sale later this month. The 6240cc Supercharged Torpedo Transformable is estimated to fetch between £621,296 and £931,944 when it goes under the hammer on Saturday, 19 March.

With the merger of Daimler and Benz in 1926, two of the motoring world's most significant manufacturer pooled skills and resources to become one of the biggest names in the emerging industry.

The technical genius of Dr. Ferdinand Porsche, who had joined Daimler in 1923, brought significant influence to the supercharged cars for demanding drivers.

Mercedes had unveiled two supercharged production models at the 1921 Berlin Show, and had campaigned a supercharged racing car in the 1922 Targa Florio Race in Sicily, all of them designed by the studio of chief designer Paul Daimler.


The arrival of Dr. Ferdinand Porsche at Mercedes was heralded by significant enhancements to the supercharged six-cylinder models that were to be introduced in late 1924. The Model K claimed to be the fastest touring car in existence with plenty of power available from the 6¼-litre engine.

Philip Kantor, Bonhams European motoring director, said, 'With some incredible motor cars in the sale, including this glorious green-bodied 1928 Mercedes-Benz Model K with its stunning Saoutchik transformable coachwork, we anticipate another exciting auction at the Mercedes-Benz Museum.'

Saoutchik was a coachbuilder deluxe, founded in France in 1906. The company was renowned throughout the 1920s and 1930s for its extravagant and high quality designs, as demonstrated with the vibrant green coachwork featured on the Model K offered.

Bonhams Mercedes-Benz Sale will take place on Saturday 19 March in the Mercedes-Benz Museum, Stuttgart, Germany. The Mercedes-Benz Museum charts the entire history of the world's oldest car manufacturer, with a total of 1500 exhibits featured in the museum.

For further information visit the Bonhams website.
Comments
Author

Keith Moody
Latest