French barn finds head to auction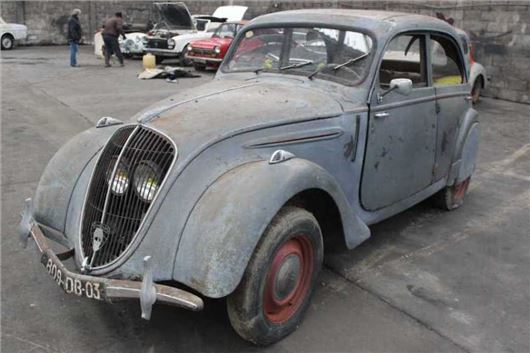 Published 11 March 2016
The entire collection of a recently deceased enthusiast is set to go under the hammer at an auction in his native France – with more than 70 vehicles up for grabs, including classic cars, motorcycles and a fascinating array of children's pedal cars.
Previously stored in a barn in the rural area of Cléguérec, the collection is being sold on Easter Saturday (March 26, 2016) by specialist auction house Jack-Philippe Ruellan. The catalogue is now available to view online, with an impressive variety of different makes and models up for grabs.
Many of the cars on sale are of French origin, most of them needing either restoration or recommissioning. They include a 1949 Peugeot 202 that's covered just 43,000km but has been off the road for many years, and a 1957 Citroen Deux Chevaux with original 'suicide' doors, carrying estimates of €3500-€4000 and €3000-€4000 respectively. A smart looking 1953 Peugeot 203 seems good value at €5000-€6000, as does a presentable 1948 Citroen Traction Avant with an estimate of €5000-€7000.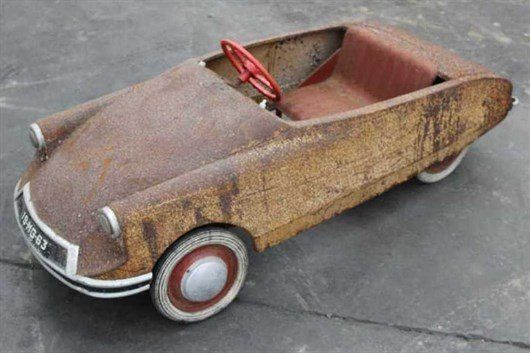 British cars also form part of the collection, including a 1968 Triumph Herald 13/60 Convertible (€4000-€6000), a 1966 MG Midget (€4000-€5000) and a well-preserved 1967 Austin-Healey 3000 MkIII (€40,000-€50,000). Japanese classics in the sale include a 1972 Honda N600 that requires recommissioning (€1000-€1500) and a very solid looking 1967 S800 Coupe (€7000-€9000).
There's a good assortment of microcars also available, including a brace of Vespa 400s at just €200-€300 each. But it's the collection of kids' pedal cars that's particularly interesting, with a number of rare models up for grabs – a list that includes miniature versions of the Citroen DS, Renault Dauphine and various Simcas, the vast majority needing some restoration work but temptingly affordable thanks to estimates of just €80-€100.
One thing to bear in mind before taking the plunge, however, is the auctioneer's fee and official French taxes, which will add a total of 24% to each sale price.
To view the sale catalogue, follow this link: http://www.svvruellan.com/encheres/catalogue-675-0.aspx
Comments
Author

Paul Guinness
Latest