Ex Agnelli Lancia Delta Integrale in Historics March 12 Auction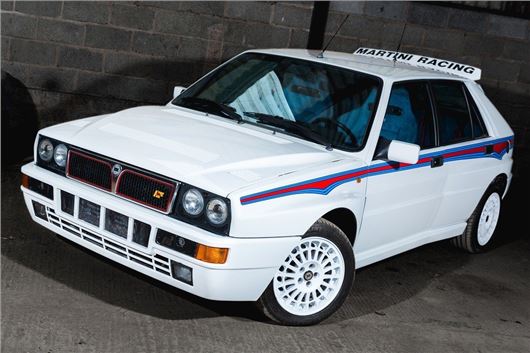 Published 05 March 2016
A pristine 1992 Lancia Delta Integrale Evo 1 Martini 6, once the personal property of Giovanni Agnelli, is estimated at £48,000 - £60,000 in Historics Classic Car Auction at Brooklands Museum next Saturday, 12th March.
Not only is it the rare and hallowed Integrale Evoluzione Martini 6 model - No. 44 of a total production run of 310 – but it was specially built as a one-off for none other than Giovanni Agnelli, Chairman FIAT, for his own family use. Significant international interest is anticipated at the estimate of £48,000-£60,000.
The car was originally built by Lancia Chivasso in late December 1992, one of 310 Martini-liveried 4WD tributes celebrating Lancia's 6th successive World Rally Championships from 1987.
It was then removed to a special department in Mirafiori where the Agnelli family cars were prepared by "Scuderia del Pilotta" under Ing. Rodolfo Gaffino di Rossi, who is now Director of the Museo di Automobili in Torino, and who also prepared the one-off Convertible Integrale.
Specified entirely to Sig. Agnelli's wishes, this historical motorcar is bespoke, boasting amongst other unique features, completely re-configured suspension, larger air vents behind the front wheels and an electrically-operated roof spoiler, finessed with a Delta Integrale Club Italy plaque on the centre console with Agnelli's initials.
The car was driven sparingly, mostly by Agnelli's son, Edoardo, and after Edoardo's death in November 2000, it was put up for sale through a private dealer and acquired and imported to the UK by Mike Matthews. Paul Baker, current Vice-President of the Lancia Motor Club and one of the foremost authorities on the marque, via his Omologato Consultancy, recalls: "I was present the day my friend Mike Matthews bought this car on a trip to Torino and I can personally vouch for its superb provenance which mysteriously, includes a number of original push buttons whose purpose was never identified and will provide an interesting exploration for the new owner."
The Integrale is one of 160+ fine classic motor cars, across a wide range of values, eras and marques, on sale on Saturday, March 12th at Historics at Brooklands, Surrey, where all consignments can be viewed on the Thursday and Friday prior.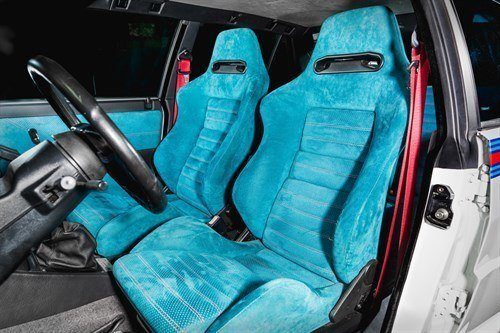 Full consignments and information are available to view at www.historics.co.uk, or contact Historics at Brooklands on 01753 639170, or email auctions@historics.co.uk.
Here is a full list of lots and estimates. Full details of any car you are interested in can be found at www.historics.co.uk  
I will update the list with as many hammer prices as I can in the evening of Saturday 12th March.
101 Land Rover SII A 88" 1969 No Reserve
102 Jaguar 2.4 Mk II 1968 Est £8k-£10k
103 Mercedes-Benz 190 Ponton 1960 No Reserve
104 Daimler V8 1997 No Reserve
105 Rover Mini Cooper 1997 Est £6k-£8k
106 Mercedes Benz C43 AMG 1998 Est £8k-£10k
107 FIAT Nuova 500F berlina 1967 Est £6k-£7k
108 FIAT Barchetta 16v 2005 Est £6k-9k
109 VW Beetle 1.6 Cabrio 2003 Est £5k-£7k
110 Vauxhall 14 Light Six saloon 1934 Est £5k-£7k
111 Rover 14 P1 saloon 1937 No Reserve
112 Triumph TR7 roadster 1980 Est £5k-£7k
113 FIAT 500 berlina Lusso 1971 Est £4k-£7k
114 Mercedes-Benz 350SL 1973 Est £8k-£12k
115 Morris Minor 1000 convertible 1967 Est £6k-£8k
116 Renault Avantime Dynamique 2.0TD 2002 No Reserve
117 VW T2 Westfalia camper 1979 Est £12k-£14k
118 Ford Escort Mk 1 1300 2-door 1968 Est £11k-£15k
119 Alfa Romeo Junior Zagato 1971 Est £12k-£18k
120 Panther Kallista 1984 Est £6k-£11k
121 Sebring MX V8 (Healey) 1996 Est £15k-£20k
122 Mercedes-Benz 320E turbo 1993 Est £8k-£13k
123 VW Beetle Cabrio 1971 Est £9k-£12k
124 Triumph TR6 roadster 1973 Est £19k-£24k
125 Jowett Javelin 1948 Est £8k-£11k
126 MG TA police car 1938 Est £24k-£28k
127 Mercedes-Benz 250CE 1972 Est £19k-£13k
128 Brooke 190ME roadster 1994 Est £16k-£22k
129 Mini Clubman estate 1981 Est £7k-£9k
130 Ford Zephyr 1955 Est £8k-£10k
131 Range Rover LSE 1993 Est £14k-£18k
132 Mercedes-Benz CLK 55 AMG 2003 Est £5k-£8k
133 Mercedes-Benz 450SL 1980 Est £12k-£16k
134 Alfa Romeo Giulia CT 1300 1968 Est £19k-£26k
135 Alfa Romeo GTV 3.0 Cup 2002 Est £8k-£12k
136 Rolls-Royce Silver Wraith II 1978 Est £9k-£11k
137 Porsche 944 Turbo 1991 Est £13k-£18k
138 Alfa Romeo 1300 Duetto Spider 1968 Est £24k-£32k
139 Porsche 356 replica 1964 Est £20k-£25k
140 Ford Mustang V8 fastback 1967 Est £20k-£25k
141 Rolls-Royce Mulliner FHC 1967 Est £40k-£50k
142 Lotus Esprit Turbo 1989 Est £16k-£22k
143 Rolls-Royce Silver Spur LWB 1984 Est £16k-£20k
144 Bentley Continental GT 2004 Est £26k-£30k
145 Citroen Light 15 11BL 1939 Est £14k-£18k
146 VW Beetle oval window 1954 Est £14k-£18k
147 Mercedes-Benz E50 AMG 1997 Est £4k-£8k
148 Jeep Wrangler 1973 Est £6k-£10k
149 Lotus Elise S1 custom 1998 Est £10k-£14k
150 VW T2 camper 1978 Est £10k-£12k
151 Mercedes-Benz 260E 1992 No reserve
152 Volvo 850 T-5R 1995 Est £4k-£8k
153 MGB GT on steel wheels 1966 Est £8k-£10k
154 Austin-Healey 3000Mk III BJ8 1965 Est £35k-£40k
155 Porsche 911 Carrera cabrio 1987 Est £29k-£34k
156 Mercedes-Benz 220SEb FHC 1964 Est £26k-£32k
157 Aston Martin DB7 Volante auto 1998 Est £22k-£30k
158 Porsche 911 Carrera coupe 1985 Est £25k-£30k
159 Citroen Maserati SM 1971 Est £19k-£24k
160 Ferrari F360 coupe 2000 Est £56k-£64k
161 BMW M635CSi 1985 Est £16k-£20k
162 MGA roadster on wire wheels1958 Est 16k-£22k
163 Lotus Elite 504 1979 No Reserve
164 VW Beetle 1200 1972 Est £8k-£10k
165 Rover Mini Italian Job 1993 Est £7k-£9k
166 VW Beetle 1300 1968 Est £8k-£10k
167 LandRover Defender Tomb Raider 2001 Est £16k-£22k
168 Triumph TR4a IRS 1966 Est £30k-£34k
169 Ford Model A Tudor 1930 Est £13k-£18k
170 Mercedes-Benz 230SL 1964 Est £29k-£35k
171 Jaguar D-Type RAM replica 1976 Est £34k-£38k
172 Porsche 911/930 Turbo cabrio 1989 Est £55k-£65k
173 Porsche 911S coupe 1975 Est £24k-£29k
174 Ferrari California 2010 Est £90k-£105k
175 Porsche 911/964 Carrera 2 Targa 1991 Est £21k-£28k
176 Ferrari 400i auto 1982 Est £24k-£28k
177 Rolls-Royce Silver Shadow 1 1971 Est £13k-£17k
178 Ford Mustang V8 1968 Est £11k-£16k
179 Maserati Ghibli 1993 Est £6k-£10k
180 Chevrolet Corvette C3 roadster 1968 Est £26k-£32k
181 Jaguar XK120SE roadster LHD 1954 Est £55k-£65k
182 Jaguar XK150SE DHC LHD 1960 Est £90k-£110k
183 Lamborghini Diablo 1991 Est £100k-£115k
184 Porsche 911/930 Turbo Flatnose 1986 Est £115k-£140k
185 Rover P5B coupe 1970 Est £10k-£14k
186 Mercedes-Benz 280SL LHD 1971 Est £36k-£42k
187 Porsche 911T Targa 1969 Est £55k-£65k
188 Ferrari 456M GTA (auto) 1998 Est £35k-£40k
189 Porsche 911/930 Turbo coupe 1982 Est £40k-£48k
190 Ferrari F430 Spider 2007 Est £80k-£90k
191 Bentley Arnage T 2003 Est £28k-£34k
192 Carbodies FX4 Fairway taxi 1997 No Reserve
193 Mitsubishi Pajero Evo 1997 No Reserve
194 Austin Heavy 12/4 Low Loader taxi 1939 Est £20k-£24k
195 Mercedes-Benz 170S 1951 Est £24k-£28k
196 Morris G2SW Super Six taxi 1938 Est £20k-£26k
197 Ford Lotus Cortina Mk 1 airflow 1966 Est £44k-£52k
198 Austin Heavy 12/4 Low Loader taxi 1934 Est £20k-£26k
199 Range Rover Classic 4-door 1983 Est £8k-£12k
200 Ford Granada GXL 3.0 litre 1974 Est £8k-£12k
201 Rolls-Royce 25/30 Sedanca 1936 Est £23k-£26k
202 Vauxhall Cresta E-Series 1956 Est £10k-£12k
203 Triumph Stag 1973  Est £12k-£15k
204 Velocette Venom 350cc Viper 1965 Est £5k-£8k
205 Vincent Rapide Series B 1949 Est £36k-£42k
206 Alfa Romeo Giulia GT Junior 1300 1967 Est £22k-£25k
207 Mercedes-Benz 350SL 2004 No Reserve
208 Mercedes-benz 220SE hearse 1963 Est £13k-£16k
209 Ford Galaxie LTD 1972 Est £12k-£16k
210 Ford Lotus Cortina Mk 1 airflow 1966 Est £48k-£54k
211 Porsche 944 Turbo coupe 1986 Est £12k-£15k
212 Mercedes-Benz 220S Fintail 1964 Est £16k-£20k
213 FIAT 600D 1960 Est £6k-£9k
214 Porsche 911 Carrera 3.2 cabrio 1984 Est £24k-£30k
215 Triumph TR6 1972 Est £15k-£20k
216 FIAT 500F berlina 1972 Est £5k-£8k
217 Bentley S3 saloon 1963 Est £20k-£26k
218 Rolls-Royce Corniche FHC 1974 Est £15k-£20k
219 Maserati 3200GT manual coupe 2000 Est £16k-£22k
220 Ford Mustang manual 1965 Est £14k-£18k
221 Alfa Romeo Giulietta Sprint 750B 1956 Est £28k-£32k
222 Mercedes-Benz 220SE Ponton coupe 1959 Est £33k-£38k
223 Chevrolet Camaro RS/SS 396 1968 Est £34k-£39k
224 Aston Martin DB7 coupe auto 1994 Est £45k-£55k
225 Ferrari Testarossa 1987 Est £74k-£86k
226 Jaguar E-Type S1 FHC Lightweight 1965 Est £75k-£95k
227 Porsche 911 Speedster Flatnose 1989 Est £85k-£105k
228 Lancia Delta Integrale Evo 1 1992 Est £48k-£60k
229 Ford Lotus Cortina Mk II 1968 Est £19k-£24k
230 Morris Minor 2-Seat Tourer 1934 Est £7k-£9k
231 Jaguar C-Type Realm replica 1993 Est £29k-£36k
232 Austin Seven Box saloon 1934 Est £5k-£7k
233 Rolls-Royce Silver Shadow FHC 1970 Est £18k-£22k
234 Datsun 240Z 1972 Est £22k-£26k
235 Ford Fairlant GT Talledaga 428 1969 Est £28k-£32k
236 VW Beetle 1300 1974 Est £8k-£10k
237 MGB roadster chrome bumper 1976 Est £5k-£8k
238 Rolls-Royce 2-/25 Special Touring 1934 Est £28k-£34k
239 Rolls-Royce Phantom II Barker limo 1934 Est £45k-£55k
240 Rolls-Royce Cloud II DHC 1962 Est £340k-£370k
241 Jaguar XK120 FHC 1952 Est £66k-£72k
242 Ford Mustang convertible RHD 1971 Est £28k-£32k
243 Jensen Interceptor Mk 1 1968 Est £40k-£50k
244 Jensen FF 1969 Est £78k-£86k
245 Chevrolet Corvette Stingray roadster 1966 Est £28k-£34k
246 Ford GT40 replica 1969/2010 Est £58k-£68k
247 Ferrari 328 GTS 1988 Est £58k-£65k
248 Mercedes-Benz 380SL 1982 Est £9k-£14k
249 MG TDC Mk II LHD1953 Est £17k-£20k
250 Ford Mustang 289 converible 1966 Est 22k-£28k
251 Alfa Romeo 2000 Spider 1984 Est £8k-£10k
252 Alfa Romeo Spider Series IV 1990 Est £9k-£12k
253 Ford GT40 Mk III KVA replica 1992 Est £14k-£18k
254 Jaguar XKR Paramount Perfornance 1998 Est £6k-£8k
255 Rover Mini Cooper 1.3i 1990 Est 9k-£11k
256 Mercedes-Benz 190 2.6 auto 1990 No Reserve
257 TVR Tasmin V8 roadster 1983 Est £12k-£15k
258 Mercedes-Benz 280 SE 3.5 1972 Est £14k-£18k
259 LandRover Defender Wolf XD90 1998 Est £18k-£24k
260 Mercedes-Benz 450 SLC 1980 Est £8k-£10k
261 Mercedes-Benz 230 CE 1985 Est £5k-£8k
262 Rover P6 3.5 litre 1971 No Reserve
263 Lotus Elan S4 DHC part resto 1969 No Reserve
264 Mercedes Benz 230 Universal SW 1966 Est £12k-£15k
265 Rolls-Royce Silver Spur 1998 Est £5k-£8k
266 Jaguar 3.8 S-Type auto 1966 Est £7k-£9k
267 VW Beetle 1303 cabrio 1978 Est £7.5k-£11.5k
268 Buick Riviera 1990 No Reserve
269 Alfa Romeo GTV V6 2000 No Reserve
Comments
Author

Honest John
Latest