1938 MG TA Police Car in Historics 12th March Auction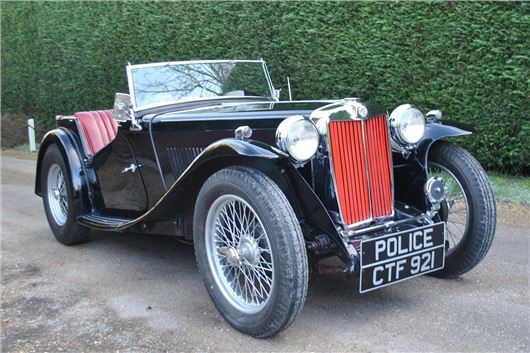 Published 25 February 2016
This 1938 MG TA ex Lancashire Police Car features in Historics 12th March Auction estimated at £24,000-£28,000, which is the normal price range for a TA or TC.
Some facts about 1938 are that there were around 2.5 million vehicles on UK roads compared to 31 million today. And there were 7,500 road deaths, v/s 1,775 in 2014, which clearly shows how much safety has improved.
CTF 921 was first registered in February 1938, to Lancaster Police.  When its duties were done, it had a more sedentary life in the ownership of a Canadian who took such a shine to the car that he shipped it across the Atlantic when he returned to his homeland.  
A subsequent American owner treated the car to light restoration before the car returned to the UK and now graces the Historics sale on March 12th. This 76-year old is resplendent in its black coachwork and red interior trim, and mechanically is said to be faultless.
The distinguished 1938 MG TA is one of 160+ fine classic motor cars, across a wide range of values, eras and marques, on sale on Saturday, March 12th at Historics at Brooklands, Surrey, where all consignments can be viewed on the Thursday and Friday prior.
Full consignments and information are available to view at www.historics.co.uk, or contact Historics at Brooklands on 01753 639170, or email auctions@historics.co.uk.
Previous preview coverng nine interesting entries here.
Comments
Author

Honest John
Latest