Mercedes 280SL auctioned to raise money for charity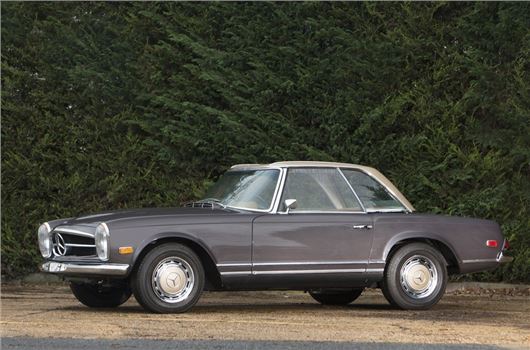 Published 27 January 2016
A 1969 Mercedes-Benz 280SL convertible will go under the hammer at Bonhams Paris sale next month to help raise money for victims of the Paris terrorist attacks.

The proceeds of the Grand Palais auction on 4 February will be donated to Parisian post-trauma research charity, Fondation de l'Assistance Publique – Hôpitaux de Paris (AP-HP).

Donor Jim Byrnes, chairman of BMT Restoration, selected the charity to support those affected by the terrorist attacks that took place in Paris last year.

Byrnes said, 'Combining my love of classic cars with this donation to a worthy cause, I hope that in some small way we will be able to help the people who need it most following this atrocity.'

In 1969, the Mercedes-Benz 280SL convertible was one of the few automobiles to combine the performance of a sports car and the comfort of a living room.
The 280 SL's 'user friendly' nature broadened its appeal beyond the traditional sports car-enthusiast market, leading many celebrities and film stars to purchase the model. Entered at no reserve, the Mercedes is estimated to fetch up to £75,000.
Comments
Author

Keith Moody
Latest