1969 Dodge Daytona Sells for $900,000 at Mecum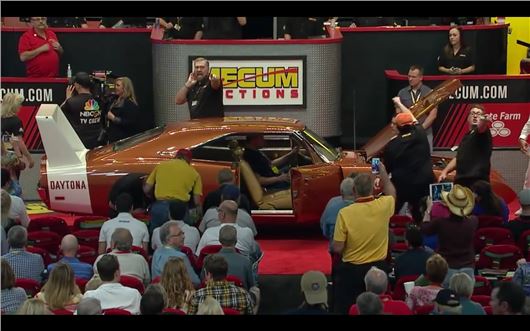 Published 22 January 2016
Star of the Tim Wellborn collection, a 1969 Dodge Daytona sold for $900,000 at a Mecum auction in Aprl 2015.
The collection was mostly Mopar muscle cars from the 1969-1971 era, with some GM models, two Fords and a Mercury.
The most unusual vehicle was the last one. A 1966 Ford Shelby Cobra cabover race car transporter with a 330ci Ford V8 that sold for $62,000.
Full hammer price results as we were able to pick them up follow:
Buick GSX Stage 1 455/360/510 4-spd 1970 MK $200,000
Chevrolet Chevelle LS6 454/450 Hydramatic 1970 MK $135,000
Dodge Daytona 426/425 1969 MK $900,000
Dodge Daytona 440/375 Magnum 1969 MK $280,000
Dodge Hemi Charger 500 426/425 1969 MK $135,000
Dodge Challenger T/A 340/290 1970 MK $185,000
Dodge Hemi Charger Super Bee 426/425 red 1971 MK $190,000
Dodge Hemi Charger Super Bee 426/425 blue 1971 MK $190,000
Dodge Hemi Charger Super Bee 426/425 auto 1971 MK $155,000
Dodge Hemi Charger R/T 426/425 auto 1971 MK $200,000 N/S
Dodge Hemi Charger R/T Pilot 426/425 1971 MK $215,000 
Dodge Hemi Charger R/T 426/425 auto 1971 MK $225,000 
Dodge Hemi Charger R/T 426/425 4-spd 1971 MK $295,000
Dodge Hemi Charger R/T sunroof 1971 MK $375,000 N/S
Dodge Viper GTS coupe 8.0 V10 1996 MK $51,000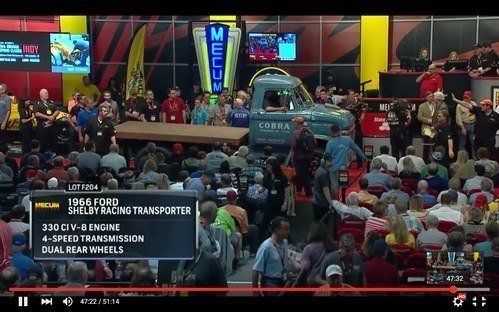 Ford Cobra Racing Transporter 330ci V8 1966 MK $62,000
Ford Mustang Boss 429 A Code 4-spd 1970 MK $425,000
Mercury Cougar Boss 302 Eliminator 1970 MK $195,000
Plymouth AAR Cuda 340/290 1970 MK $140,000
Pontiac Firebird Trans Am 350 Rockford Files 1978 MK $40,000
Pontiac Firebird Trans Am SE 6.6 1978 MK $42,000
Pontiac Firebird Trans Am 1978 Burt Reynolds MK $90,000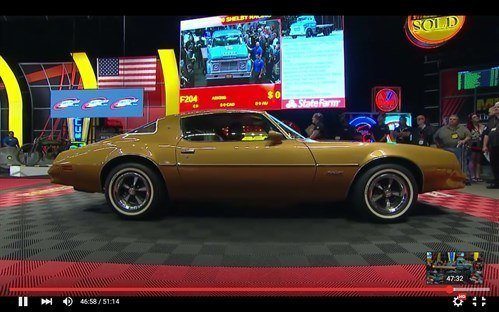 Comments
Author

Honest John
Latest