How much would you pay for a 'brand new' Maestro?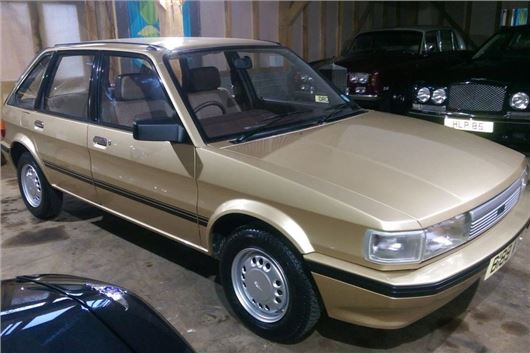 Published 01 December 2015
An Austin Maestro HLE might not be top of everyone's list when it comes to desirable cars of the 1980s, but this one's a bit different. In fact, it's potentially unique thanks to its genuine mileage of just 102 (yes, that really is 102 miles) from new. And it can now be yours if you're quick enough to join in the online bidding.
This Maestro was bought brand new in August 1984 by a Miss Doreen Gee of London, who drove it just 100 miles during her twenty years of ownership, keeping it garage-stored all that time. The car was then spotted in June 2014 by a builder who was due to demolish Miss Gee's garage. Fortunately the Maestro was rescued prior to demolition, and it has since covered just two more miles.
The car is now listed as an ebay auction, with the vendor commenting, 'This Maestro must be one of the most original 1984 cars to come to the market, still having its original carpet protectors from main dealer Henleys, plus the original 1984/85 tax disc. It also has all of the stickers and paint marks that the factory put on as the car was built.'
The Maestro's all-original bodywork and interior look like they've 'only just left the factory', according to the seller, although he admits that the car shows a few signs of age. Even so, there can't be many – if any – other Maestros left in such unused condition, which prompts an obvious question: How do you value something like this?
When new in 1984, this Maestro 1.3 HLE carried a list price of £5794 – and early bidding in the ebay auction is already heading towards that kind of level. The online auction will end at around 8pm on Sunday, 6 December. To follow progress or to place a bid yourself, go to the eBay listing. 
Comments
Author

Paul Guinness
Latest