Two landmark Austin-Healeys head to auction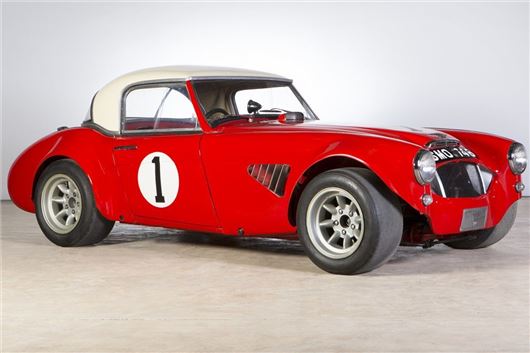 Published 14 September 2015
Two cars from the world's greatest collection of Austin-Healeys are heading to auction in December. Going under the hammer at Bonhams' sale will be 'ONX 113' (the ex-Donald Healey 1953 Austin-Healey 100/'100S' Coupe), and 'SMO 746' (the ex-Works/John Gott 1959 Austin-Healey 3000 Rally Car).
Both cars are from the collection of Arthur Carter. Carter assembled a supberb collection of Austin-Healeys, including Works and customer 100S models, Works Sebring and Rally 3000s, competition Sprites, one of the three 4000 MKIV Healeys, road going models, and the Donald Healey 100 Coupe.
'ONX 113' was the much-loved everyday car of Austin Healey founder, Donald Healey, who used it extensively over a ten-year period.
Healey asked chief designer, Gerry Coker, to produce two variants of a coupe based on the four-cylinder Austin-Healey 100 platform, in order to explore the possibility of producing a coupe for series-production.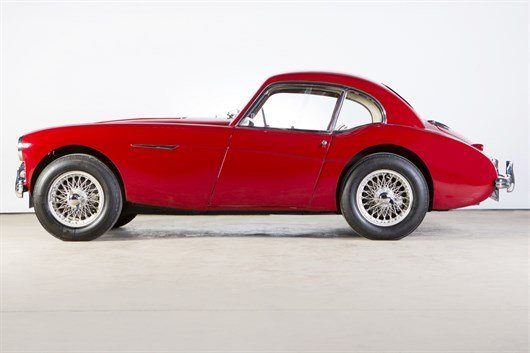 A red car, 'ONX 113', and a blue car 'OAC 1' were produced. The red car is regarded as the prettier of the two, and it was the one that Donald Healey subsequently commandeered for himself.
The car was used for continuous development and, when the 100S competition programme came on stream, Donald had the 100S mechanicals, including engine, gearbox and disc brakes, installed. The car effectively became a 100S Coupe, making it totally unique.
The blue car became the test bed in period for the later six-cylinder engine for the subsequent 100/6 model. It still survives today.
To Healey collectors, the 100 Coupe is regarded as perhaps the most important – and arguably most coveted – Healey of all, taking Gerry Coker's original timeless design to an even higher level. Donald's coupe is a significant motor car.
The second Healey for sale is the 1959 Works Rally 3000 – 'SMO 746'. This is one of three of the first series of 3000 MkI Works rally cars produced that competed in the 1959 and 1960 International Rally seasons.
Rally successes by the three 'SMO' Works team Healeys did much to boost sales of the new '3000' model Austin-Healey. SMO 746 was raced by Jack Sears, Pat Moss (sister of Sir Stirling Moss, and wife of the great rally driver Erik Carlsson), and John Gott.
As one of the Works team, it competed in famous events such as the gruelling Alpine and Liege-Rome-Liege rallies.
When Gott left the Works Team, he took SMO 746 and continued to race it extensively, in the process taking more race wins in period than any other Austin-Healey. Moving with the times, John subsequently developed SMO 746 into a fearsome looking Modsports car, the guise in which it presents today.
John Gott crashed the car at Lydden Hill in 1972 after having a suspected and fatal heart attack. Collector Carter acquired the crashed car and chose to restore the car back to its Modsports configuration as a tribute to Gott.
Comments
Author

Keith Moody
Latest