Historics sells pre-war Bentley for £500,500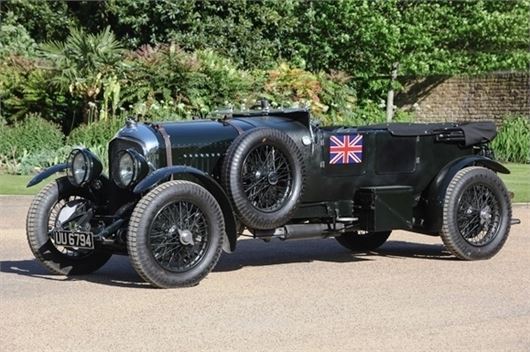 Published 06 July 2015
Adding a final flourish to its summer sale, Surrey-based auction house Historics has just announced the sale of the catalogue cover car - a 1929 Bentley 4½-litre tourer, for £500,500.
It comes three weeks after the auction took place. The 1929 Bentley was a well-cared for example with an extensive history file. It was first registered to Sqadron Leader CA Ridley of Horley, and sold to Captain HR Campion just before the Second World War.
During the war, the Bentley was laid up in the Cumberland Hotel garage in London, and it was recommissioned after the war by Captain Campion's son.
It's believed to have originally been built with a Maythorne saloon body, which was changed to a Vanden Plas tourer body in 1965.
Having had significant sums of moneys spent on it over many years (shown in a history file dating back to 1964) the car was described as in 'splendid' condition at the sale.
Significant features of this car include its Le Mans fuel tank, correct P100 headlights and fold-flat windscreen with aero screens.
It is one of around 660 4½ litre Bentleys made. Others sold recently include a car of the same age that had been treated to a total rebuild in the 1990s, which went for £471,900 at Bonhams' 30 November 2014 sale.
A year earlier Coys sold another 1929 4½ litre tourer for £628,500.
For more visit: ClassicCarPrice.com
Comments
Author

Claire Evans
Latest