32 Years of Mini Cooper S at Next Historics Auction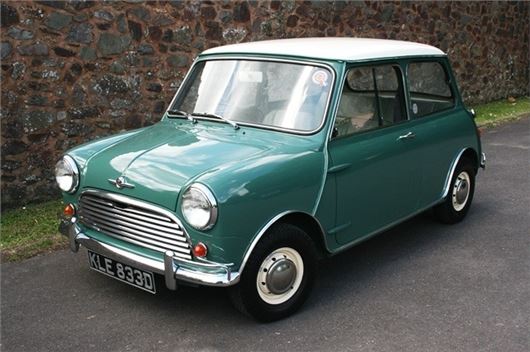 Published 10 July 2015
Historics Classic Car Auction at Brooklands on 29th August will feature Mini Cooper S models from 1966 and 1998, and a 1987 Mini Mayfair for resto offered at no reserve.
The 1966 Mini Cooper 1275S in Almond Green with white top is unusually restored to original standard appearance on steel Cooper S wheels. Suspension is factory hydrolastic, but the engine has been stripped, reconditioned and mildly modified with LCB manifold, RC40 single silencer and new 1.5" SU carburettors with pancake air filters, although the original 1.25" carburettors and filter housing are included in the sale. The engine was set up by renowned Mini tuning specialist, Steve Harris (ex-Downton Engineering) and, to finish, the interior was fitted out with the original seats which are in excellent condition and complemented by Newton Commercial door cards and trim. The dash binnacle is a nice period feature and is thought to be an original 'Billy Dulles' item. Total recorded mileage is just 43,000 and this might be genuine. The car complete with Heritage Certificate and MoT test certificate valid until 2016 and is estimated at £19,000 - £24,000.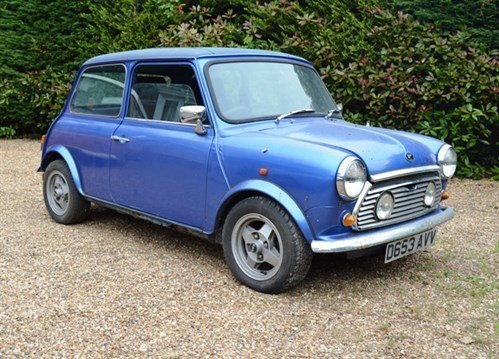 In direct contrast, the 1987 Mini Mayfair automatic by Wood & Pickett, is offered at no reserve. The interior still boasts its Wood and Pickett blue leather reclining seats, walnut dashboard, walnut door cappings, Momo steering wheel and colour coded seat belts, front and rear. On the outside, the blue coachwork is showing signs of requiring some repairs, however, the Mini has many Wood and Pickett features including; alloy wheels, front spot lights mounted within the grill, a vinyl roof and a sunroof. The story is, it was taken in part-exchange in around year 2000, then forgotten about. With a fresh battery and fresh fuel, the 1275 engine started. It needs recommissioning and some body repairs, but when finished will be a delightful little car. Offered at no reserve.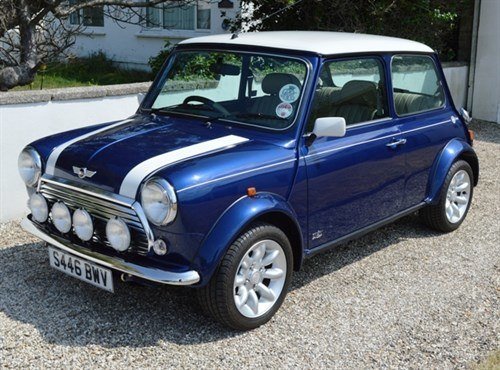 Finally, the 1998 'Special Order' Rover Mini Cooper S Touring with only 533 miles on the clock is a virtually new car. It was built under the supervision of Tony Franks, John Cooper's Chief Mechanic and Workshop Foreman at the John Cooper's Workshop (JWC) at East Preston, West Sussex and sold through John Cooper's Garages Ltd., at 50 Ferring Street, Ferring, West Sussex. Tony remembers that this particular model, car number 98-S-132, had a JCW upgraded engine with high lift rockers, larger inlet valves and a high compression cylinder head mated to a three branch exhaust manifold. Silencing was via a Janspeed silencer with twin pipes exiting the rear. Multi point fuel injection was incorporated, Koni suspension and a higher ratio final drive of 4.2:1, enabling less engine revs at speed. It was first owned by a gentleman who spent a lot of time in Japan leading to the Mini spending much of its early life in storage until being purchased by the current owner in May 2005. Delightful details such as the John Cooper signed lightened alloy window winders and door handles further adorn the interior. Complementing the coachwork, details include alloy wheels, alloy locking quick release fuel filler and auxiliary quad driving lights at the front. A UK registration V5 document and current MoT test certificate, valid until April 2016, accompany the car. Importantly, since being in the current ownership, this Mini Cooper S has been personally maintained by Tony Franks at his Sussex workshop. It is estimated at £15,000 - £18,000.
More, and latest catalogue updates, at Historics
Comments
Author

Honest John
Latest