Learn How to Buy and Sell Classic Cars at Auction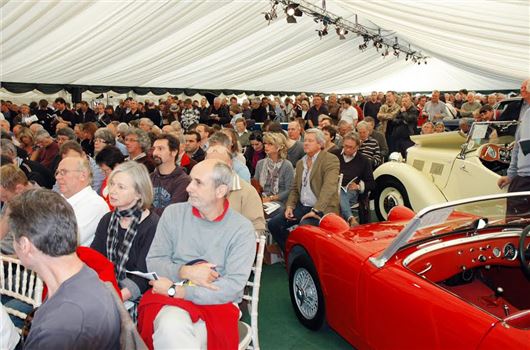 Published 22 May 2015
To help prospective classic car investors gain the most from classic car auctions, Historics is holding two 'free' seminars on Friday 5th June.
Conscious that buying and selling at auction can be a daunting prospect, members of Historics team are providing their professional advice and guidance, to make the process easier and more enjoyable.
Historics largest and most varied sale of 300 classic motorcars and motorcycles is being held on Saturday June 6th. The day before, on Friday 5th, Historics will be holing two free seminars at 11am and 6pm.
Presented by one of Historics' highly experienced negotiators, John Williams the lecture-style seminars will be informal but highly informative.
Prospective buyers will be taken through all aspects, including registration, what to look for in pre-sale viewing, methods of bidding, bidding technique, the meaning of provisional bids, payments and collection after purchase.
For vendors, seminar content will be similarly comprehensive, including the process of getting a car to auction, essential tips on preparation that can make the difference between a good sale or not, estimating value, and the auction transaction.
The seminars will close with a question and answer session where guests are encouraged to get vocal with specific queries.  Williams will be joined by one of Historics' vastly knowledgeable and experienced auctioneers, Fabian Hine.
Historics' auction director, Edward Bridger-Stille, commented: 
"With so many cars offered from auction houses around the county, Historics feels it is important that we arm customers with as much knowledge and experience as possible, not just on paper but face to face. After all, the entire classic car movement is based, fundamentally, on enjoyment and if we can assist buyers make the correct choices, whether here or elsewhere, then we have succeeded in giving a little something back."
Purchase of the Historics June 6th auction catalogue on the door on June 4th and 5th, will entitle two persons to attend a seminar, on a first-come basis, at either 11am or 6pm on Friday 5th. The seminar will last approximately one hour. Further information from Historics at Brooklands on 01753 639170. 
For full details of the 300 consignments at the June 6th Historics motorcar and motorcycle sales at Brooklands Museum – the largest and most varied in Historics' history - commencing at 10.00am, visit www.historics.co.uk.  Viewing is on both 4th and 5th June.
Comments
Author

Honest John
Latest