Frazer Nash sells for £236,000 at Brightwells auction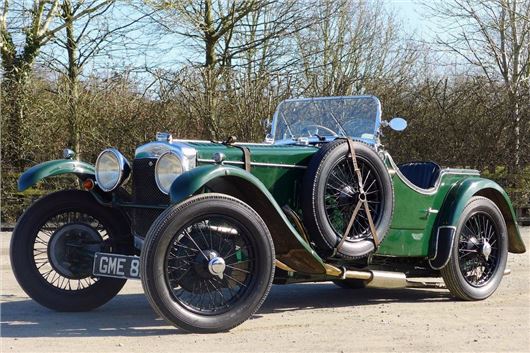 Published 14 May 2015
There was a huge turnout at Brightwells on 13 May as more than 1000 buyers descended on the Leominster auction hosue to see 160 classic cars and 23 motorcycles go under the hammer.
Top price of the day went to an unusually original chain-drive 1936 Frazer Nash TT Rep with a known history from new and an illustrious competition record stretching back over many decades.  Fiercely contested, it finally sold to a Swiss bidder for £236,500.
Both the Bentleys in the catalogue sold well. A 1934 Bentley 3.5-Litre Park Ward Saloon that had been restored in the late-1990s and looked in good condition throughout fetched £50,600.
More modern, but just as appealing, was a stunning 1996 Bentley Turbo R LWB which had covered less than 11,500 miles from new. Finished in Royal Blue Metallic with a Parchment hide interior which included a drinks cabinet and a fridge, it sold for £26,950.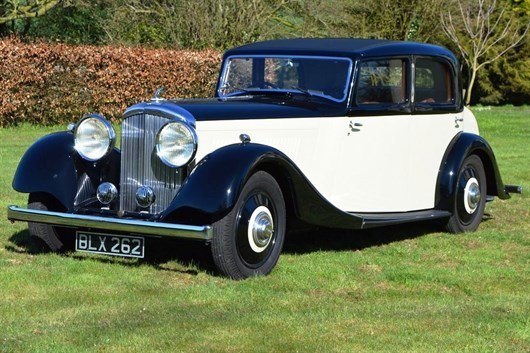 1934 Bentley 3.5-Litre Park Ward Saloon sold for £50,600
Equally aristocratic was a wonderfully patinated 1928 Rolls-Royce 20hp Park Ward Weymann Landaulette, a real 'oily rag' machine that had been carefully restored and brought back to life after 30 years in storage in Arizona. Retaining much originality and with a beautifully preserved brown leather interior it was eventually hammered away for £27,500.
Although it is hard to believe it now, Vauxhall was also once a rival to Bentley and Rolls-Royce before the firm was taken over by General Motors in 1925, but a nicely restored 1930 Vauxhall T80 Grafton Golfer's Coupe with a 3.3-litre straight-six still retained enough of the old magic to fetch a healthy £23,650.
Sticking with the pre-war theme, a rare and sporting c.1928 Delage DM rolling chassis with a 3.2-litre OHV straight-six engine and gearbox but no bodywork, no interior and no documents surprised everyone by demolishing its £6k-£8k estimate, being hotly contested by numerous overseas phone and internet bidders all the way to £22,500, a Northumbrian collector finally emerging victorious and keeping this exotic French machine on British soil.
Equally exotic but rather more complete was the wonderfully wacky 1951 Tatra Tatraplan T600 with its distinctive vertical tail fin, all-aluminium air-cooled 2.0-litre flat-four engine and Zeppelin-inspired teardrop coachwork. One of just 6342 made and in need of light restoration, this fascinating Czech-made design icon made £13,200.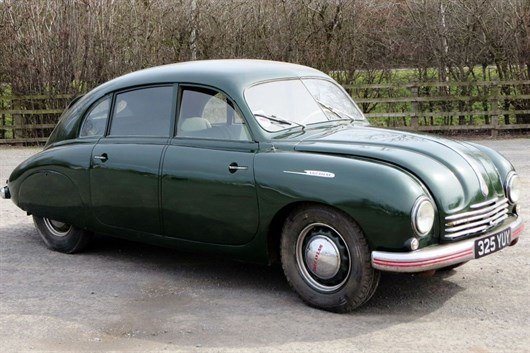 1951 Tatra Tatraplan T600 made £13,200
Ferdinand Porsche drew many of his ideas for the original VW Beetle from Hans Ledwinka's Tatra so it was nice to see a time-warp 1973 Beetle 1303 with just 26,000 miles on the clock fly way beyond its £6k-£8k estimate to finish on £11,200.
Jaguars were well-represented with a dozen examples on offer, top price going to a cosmetically scruffy but mechanically good 1966 E-Type S1 4.2 Coupe in original right-hand drive which sold for £53,900. A very dilapidated 1971 E-Type V12 Coupe, which had been off the road for 23 years, also surprised everyone by with its £15,200 result.
Also noteworthy was the £13,200 raised by an exceptionally smart 1987 XJS-C 3.6 Cabriolet with just 52,000 miles on the clock and forecast to fetch nearer £9,000.
A trio of Daimler 2.5 V8s also found new homes. A tidy 1965 automatic with a recent repaint fetching a market correct £14,100 while an average 1969 example raised £9100 and a smart and very rare 1968 manual overdrive looked a snip at  £11,500, perhaps  held back by its brown paint with pale blue leather colour scheme.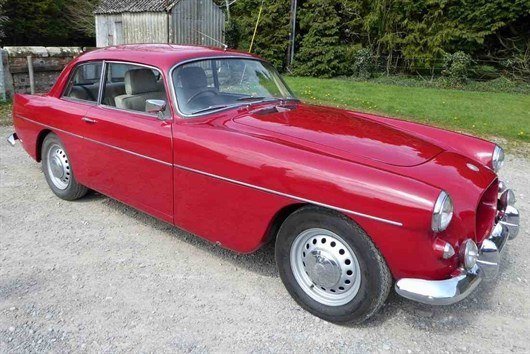 1962 Bristol 407 Saloon fetched £29,200
Another pair of British V8s did better. A smart 1962 Bristol 407 Saloon with only 18,000 miles on a 'new old stock' 5.2-litre Chrysler V8 engine made £29,200, while a very original 1964 Jensen C-V8 MkII raised £20,900 despite looking somewhat jaded.
Austin-Healey Roadsters are always keenly sought after and both the A-H 100 models were sold. A left-hand drive 1955 100/4 BN1 uprated to Le Mans spec with the original three-speed gearbox made £36,300. Meanwhile, a slightly smarter right-hand drive ex-South Africa 1957 100/6 BN4 with four-speed overdrive raised £34,650.
A scruffy 1930 Austin 7 Chummy also did well at £9,900 as did a very smart 1955 Austin A40 Pickup at £10,300 and an equally tidy 1957 Austin A35 Saloon at £5,500.
Rileys are a regular at Brightwells and the two post-war models on offer were both snapped up. A really lovely 1953 RMF 2.5-litre fetching a nearly double estimate £20,900 (almost certainly a new auction record for the model).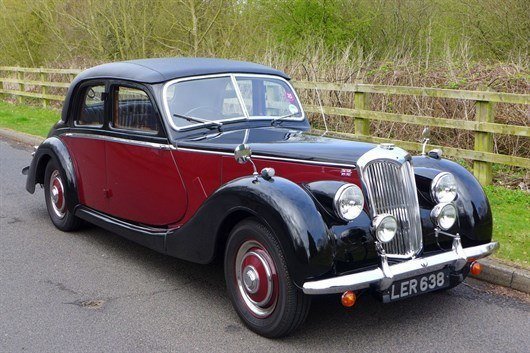 1953 RMF 2.5-litre fetched nearly double its estimate at £20,900
Rather more modest was the £5300 achieved by a presentable 1954 RME 1.5-litre which had been restored in the 1980s but was nowhere near as sharp as the RMF and also laboured under the handicap of the smaller engine.
A 1976 TVR 3000M, one of only 10 'Martin Edition' models made and in superb condition throughout raised a top estimate £15,000, while a tidy 1997 TVR Chimaera 4.0 V8 fetched a more typical £7900.
Equally lairy but rather more antiquated was an intriguing part-finished 1941 Ford V8 Special 'rat rod' with a hotted up Mercury 'flathead' engine and Iskenderian cam which was snapped up by an Austrian bidder for £5,700.
Sticking with V8s, a 1966 Ford Mustang Fastback 289Ci Automatic which still looked sharp following a rotisserie restoration in America some 20 years previously fetched the required £28,000.
And an equally impressive 1990 Ferrari Mondial T flew £5,000 beyond its top estimate to finish on £27,500, further proof of just how fast this once-unloved 'Prancing Horse' model has come on of late, prices no doubt being dragged up on the coat-tails of the 60s Ferraris which have seen an astronomic jump in value over the past two years.
1990 Ferrari Mondial T flew £5,000 beyond its top estimate to finish on £27,500
Fifteen Triumphs were for sale in the catalogue, all but one of which (a still unloved TR7) got away successfully. Top honours went to a very rare and nicely restored 1938 Triumph 14/65 Dolomite Roadster, one of only 12 known survivors, which fetched £29,700.
A smart 1960 TR3A with just one owner since 1969 was next best at £18,900 while a rally prepared 1957 TR3 raised £15,400.
All four TR6 models found new homes, a pair of well-restored 1969 and 1972 examples making £14,000 apiece while a good, usable 1970 car made £11,500 and a totally derelict 1972 TR6 raised just £2,100 and will no doubt keep someone busy over the coming months.
A very nice 1974 Stag in one family ownership for virtually all of its life fetched £11,200 and a highly original 1973 Spitfire MkIV with just 15,400 miles under its wheels raised £5,700.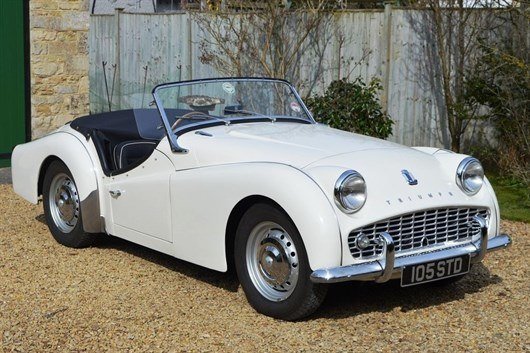 1960 TR3A with just one owner since 1969 sold for £18,900
There were also 15 MG models, with all but one selling. Top price went to a beautifully restored 1968 MGC Roadster which raised a top estimate £24,200.
Not far behind was a smart, low mileage 1954 MG TF at £22,000 while a reasonable 1946 MG TC that had been in single family ownership for 25 years raised £17,600.A pair of nicely restored MGB MkI Roadsters also made £10,200 apiece showing just how keenly sought after these once relatively commonplace classics have become of late.
All four Rovers in the sale also found new homes, the most noteworthy result being the £11,500 raised by a beautifully preserved 1961 P4 80 with less than 23,000 miles on the clock. Not bad for a model which usually struggles to fetch even half that amount.b An almost equally smart 1975 P6 3500S with only 30,300 miles which raised a mighty £9900.
Brightwells' lead consultant, James Dennison said the sale achieved an 80% clearance rate. 'There is plenty of life in the classic vehicle sector and there are no shortage of willing buyers out there only too keen to have a nice old car or motorcycle in the garage rather than a lump of cash mouldering in a bank account,' he said.
Brightwells next sale is on 15 July. To view the results of the May sale in full, visit www.brightwells.com.
Comments
Author

Keith Moody
Latest