Last Aston Martin DBS Ever Built Found in a Barn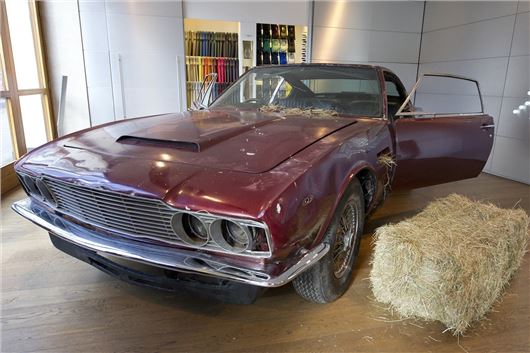 Published 02 March 2015
The final Aston Martin DBS to come off the production line has been found in a barn in Surrey and will be auctioned by COYS in London on 10th March 10th.
 
The car was discovered by Chris Routledge, Managing Partner of Coys, who we regularly see hunting out cars like this on Quentin Willson's Classic Car Show. Prior to the auction at the Royal Horticultural Society, this important barn find will be on show at the Aston Martin Mayfair W-ONE showroom.
Routledge said: "This is the ultimate barn find and an important part of Aston Martin's history. It has been sitting in a barn since 1980 and now needs to be brought back to its former glory."
 
He added: "The windows are broken, the interior trim is missing and its rusty, but it's all there and there has been huge interest from collectors around the world.
 
"We have estimated the car at £25,000 to £40,000 in its present condition but because of its heritage it could go for an awful lot more than that."
 
Nik Boxall, Head of Business at Aston Martin Mayfair, said: "The Aston Martins that normally grace our showrooms are always pristine and in top condition, but this car is very special and it is part of Aston Martin Heritage. Somebody will buy it, restore it and then we would love to have it back so that people can see the difference."
 
The DBS will be on show from 1pm on Monday March 2nd until the morning of Monday 9th at Aston Martin W-One
, Brook House
, 113 Park Lane
 Mayfair
, London
, W1K 7AJ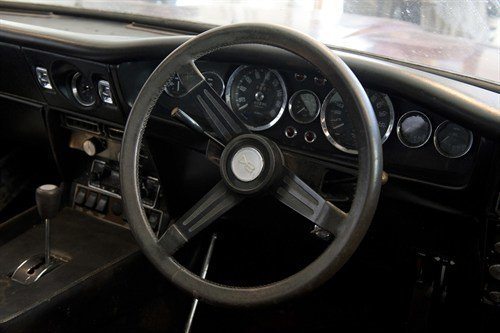 Finished in its original factory colour of Dubonnet Rosso, DBS 5829 R has the build date of September 1972 and bares the Chassis Number for the last ever DBS to roll off the production line! The car has been unused and dry stored since 1980. It underwent minor servicing in 1990, for which there are detailed service invoices.
 
The car has an automatic gearbox, Waso steering lock and Voxon stereo It was purchased by an Aston Martin Enthusiast, Mr. Bass Senior (who was also the proud owner of one of the very rare DBS3s) in 1975 from Guy Salmon in Thames Ditton and has remained in the family ever since. 


 
It has an odometer reading of just over 40,000 miles, and is estimated at £25,000 - £40,000.
 
Aston Martin developed the DBS as an addition to its range in response to customer requests for a roomier more comfortable car, initially in tandem with the forthcoming V8 engine. However, problems with the V8 programme meant the car was launched to great acclaim at the October 1967 London Motor Show using their existing 4-litre straight-six engine.
 


It was based on an enlarged DB6 platform chassis but used De Dion rear suspension and was clothed in a masterfully elegant shape by young English designer William Towns. Its ride and handling more than made up for the fact that it was slightly slower than the smaller DB6 it eventually supplanted. Contemporary road testers proclaimed the DBS to be one of the great GTs of the era. 


 
Coys 'Spring Classics' auction takes place on March 10th from 5:30pm. Viewing of the cars is available on Monday 9th March from 12.00 noon to 8.00pm; on the day of the auction from 10.00am to start of sale.
More at COYS
Comments
Author

Honest John
Latest