VW Type 2 Samba sells for £67,500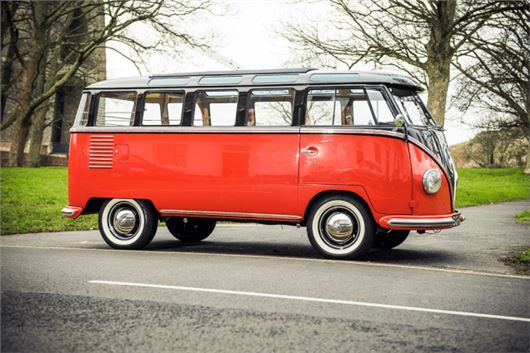 Published 22 February 2015
A 1955 VW Type 2 Samba once owned by the UK's first VW dealer, sold at the Silverstone Race Retro auction yesterday for £67,500.
Full results by Classic Car Price here: http://bit.ly/1FGOxM5 
This would seem to be the highest price ever achieved by a VW Type 2 in Europe.
Recent history shows a 1967 VW Type 2 21 window bus was sold for $112,000 by Barratt-jackson at Scotsdale, Arizona on 16th January 2015. Another, a 1964, sold for $115,000. 
A 1967 Volkswagen Splitscreen Camper that used to belong to American blues singer-songwriter Seasick Steve sold for £29,500 at Coys' Autosport auction on 10 January.
On 4th December 2014, a very nice LHD 1966 Type 2 21 window splittie was sold by BCA in a van auction for £38,100.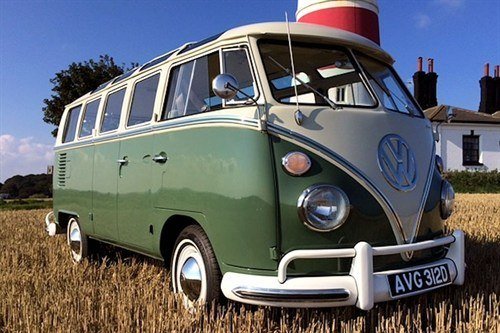 In January 2013, a perfectly restored 1963 21 window VW T1 combi with sunroof sold at auction in the USA By Barrett-Jackson for a World Record $198,000 + commission (£126,000 at today's rate).
So there is a huge variation in the prices that top condition examples of these fetch.
Silverstone Auctions Type 2 Samba was more than a little special.
It's designated a T1b, which I think means it has a lower floor over the engine. (The original Type 2 engine compartment accoomodated a vertical spare wheel, so left a lot of unusable space over the engine.)
SGB 62 was imported by John Colborne-Baber, Britain's first VW importer and dealer, in Woking Surrey, as an MPV (not a camper) for family holidays.
The car disappeared for a while, then, in 1992, SGP 62 was rediscovered in the West Country after 30 years in storage. It has now been professionally restored over the last 18 months as a faithful reproduction of its condition as used by the Colborne-Baber family.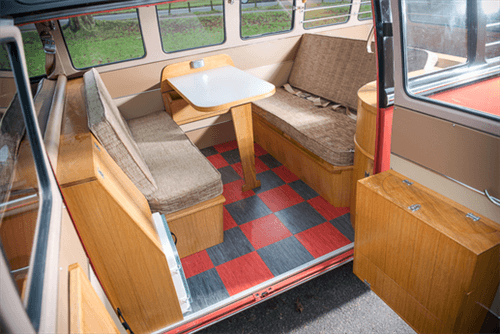 A new bespoke period-correct Devon interior (by VW expert Kevin Morgan) has been used with the correct Osokool fridge and Dudley Stove. These rare items were sourced specially for this bus and are in mint condition. Upholstery and trim are also in period (by VW experts Trimshack), whilst body and paintwork are also faithful (by experts Smiths VW).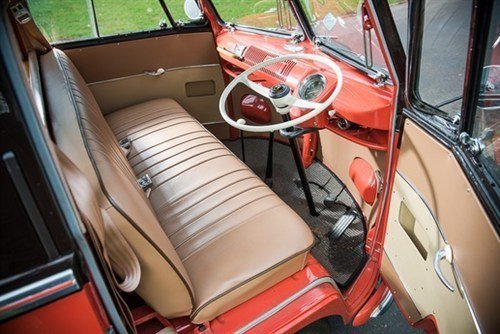 SGP 62 has been restored, as much as possible, to original specification with a few additional safety and convenience features, whilst retaining its completely original appearance. These allow it to be both usable and safe to drive, while giving full peace-of-mind (if desired, it could very easily be converted to absolutely original condition without any major work being necessary).
It has a new 2.0L twin-carb engine (by VW expert John Gurney), dual circuit brakes with CSP front discs, independent rear suspension, radial tyres, integrated front and rear indicators (working semaphores are still in place), engine bay fire suppressant system and front & rear seatbelts. In addition, there is a concealed fuel gauge, iPod/iPhone dock in front ashtray, 12v sockets, a treasure chest safe and 12v conversion.
SGP 62 comes with a certificate of authenticity from the Stiftung AutoMuseum Volkswagen, a comprehensive history/restoration file and a letter regarding it from the son of Mr John Colborne-Baber.
So it's very special indeed, either as in investment for a collector or, hopefully, to be used and taken to the numerous VW Type 2 events throughout the summer.
Meanwhile, this 1965 33 window Type 2 Splittie stretch limo is up for sale in Maui, Hawaii for $220,000 (£146,000) on eBay.com (shipping extra).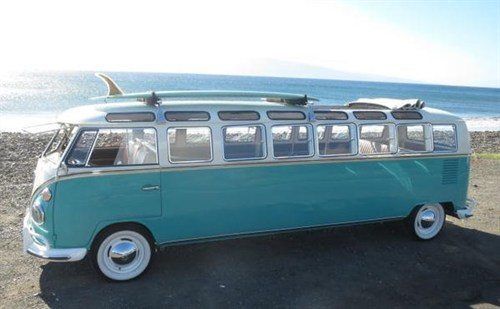 Classic van and camper insurance policies from Carole Nash
More on Silverstone Auctions
Comments
Author

Honest John
Latest