Millionth Morris Minor to Feature in London Classic Car Show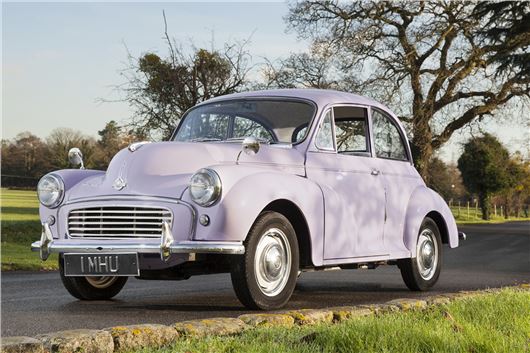 Published 06 January 2015
The millionth Morris Minor to roll off the production line at Cowley is to feature in The London Classic Car Show, then be sold at Historics auction at Brooklands on 7th March.
This is the actual millionth Morris Minor, not one of the 349 lilac Morris Minor 1000000 replicas that followed it. The car will go on show to the public this Thursday, January 8th at the opening of the London Classic Car Show, in a tantalising taster to its sale at auction on Saturday, March 7th.
Faithfully presented in its original specification and livery after restoration, this landmark Morris Minor is the most famous example of the car that spanned a mammoth 24-year production history and captured the hearts, minds and wallets of the British public.
Displayed at the show by classic car auction specialist, Historics at Brooklands on Stand G73, it's a great opportunity to see this famous car prior to its sale at Historics Spring auction on March 7th at Brooklands Museum, Surrey.
The ubiquitous Morris Minor - the first British car to hit the one million production mark - is a tribute to its designer, Alec Issigonis, whose fame was further bolstered through his design of the original Mini.
The Sixties wasn't known for extrovert expression (most Morris Minors were black) and so the special lilac body colour and white leather upholstery chosen for this special car doubtless raised eyebrows as it trundled down the assembly line on December 22nd 1960.
Having left the clutches of the Nuffield Group publicity department, the Minor was passed to the National Union of Journalists in April 1961 for a national fund-raising campaign, and was finally raffled live on television, with proceeds going to the British Red Cross. 
The raffle winner from Wales was too young to drive and the car was passed on to the local postman. It subsequently endured accident damage before being acquired by the present vendor as a restoration project in 1971.
Some twenty years passed before he funded a professional restoration costing some £15,000 and a return to its original glory. Since then, the car has largely been dry stored with only nominal mileage, including a regular annual trip for an MoT test.
The car carries its original registration number, '1MHU', signifying one million in engineering terms, and also sports its commemorative 'Morris Minor 1,000,000' chromed rear boot badge fitted 55 years ago to mark the occasion. Mechanically and in equipment terms the two-door model is entirely authentic, powered by a 948cc, A-Series four cylinder engine.
A unique and entirely affordable collector car, the millionth Morris Minor comes to sale at Historic on March 7th accompanied by a wealth of archive documentation in a vast history file including news articles, previous MoT certificates, a Heritage Certificate, and a chronicle of its restoration with receipts totalling some £15,000.
Significant home and international interest is anticipated at its sale in March at Historics, at an estimate of £22,000-£28,000.
To see this unique emblem of British automotive history, visit Historics at Stand G73 at the London Classic Car Show, at ExCel, London from Thursday 8th – Sunday 11th January 2015.  www.thelondonclassiccarshow.co.uk.
For full information and to consign to Historics at Brooklands Spring auction of 130+ fine classic motor cars on March 7th, visit www.historics.co.uk or e-mail auctions@historics.co.uk.
Comments
Author

Honest John
Latest