1969 Dodge Hemi Daytona 426 Sells for $900,000 at Mecum Kissimmee.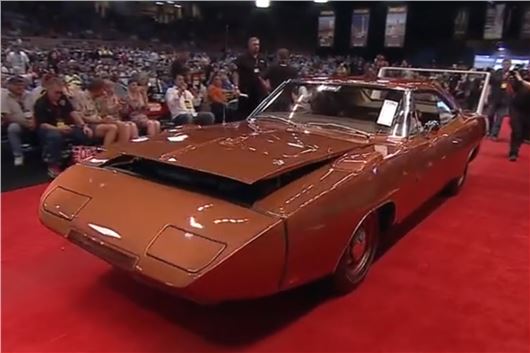 Published 24 January 2015
23rd January 2013 was the day the cars from Tim Wellborn's Muscle Car Museum in Alexander City, Alabama came up for auction at Mecum Auctions, Kissimmee, Florida.
Most of these were six figure cars. The one of a kind 1969 Dodge Hemi Daytona 426/425HP made the biggest money: $900,000.
But the 1970 Mustang Boss 429 made all of $420,000 and a fully optioned 1971 Dodge Challenger $375,000.
Tim Wellborn explained that 1969 to 1971 was the short era of 'stock' NASCAR race cars that could be bought by the public from their local dealer to use on the street.
But by 1972 it was all over, with legislation and insurance killing off these overpowered, undertyred 150mph cars, and NASCAR changing its rules, so that 'stock' no longer meant a car that the public could actually buy.
Some of the Tim Wellborn Muscle Car Museum Cars:
1969 Dodge Hemi Daytona 426/425 $900,000 Sold
1978 Pontiac Firebird used in Rockford Files $40,000 Sold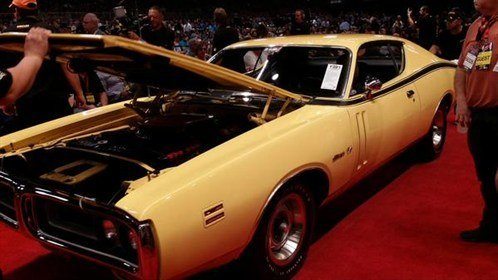 1972 Dodge Hemi Charger last built) $295,000 Sold
1972 Mercury Cougar Boss 302 Eliminator $195,000 Sold
1971 Dodge Hemi Super Bee $150,000 Sold
1971 Dodge Hemi Charger R/T $225,000 Sold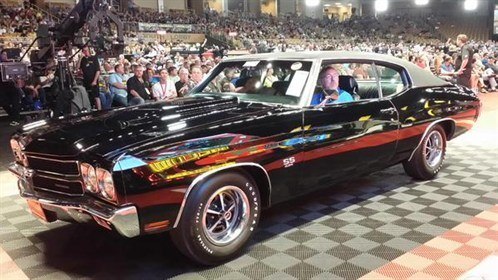 1970 Chevrolet Chevelle LS6 $135,000 Sold
1971 Dodge Hemi Super Bee (blue) $190,000 Sold
1971 Dodge Hemi Super Bee (red) $190,000 Sold
1970 Buick GSX 4-speed $200,000 Sold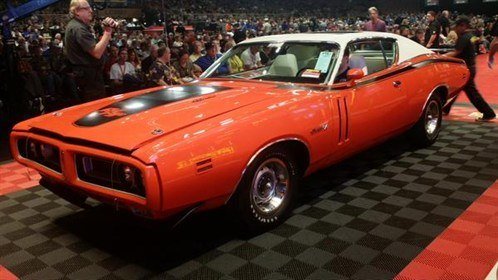 1971 Dodge Hemi Charger (red) full options $375,000 Sold
1970 Dodge Challenger T/A $185,000 Sold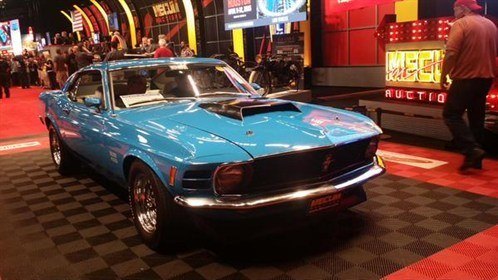 1970 Ford Mustang Boss 429 $420,000 Sold
1969 Pontiac GTO conv Ram Air IV 4-spd $175,000 Sold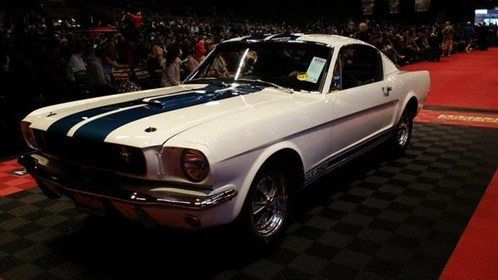 1965 Shelby Mustang GT350 $445,000 Sold
1969 Chevrolet Nova Yenko $380,000 Sold
1971 Dodge Hemi Challenger $640,000 Sold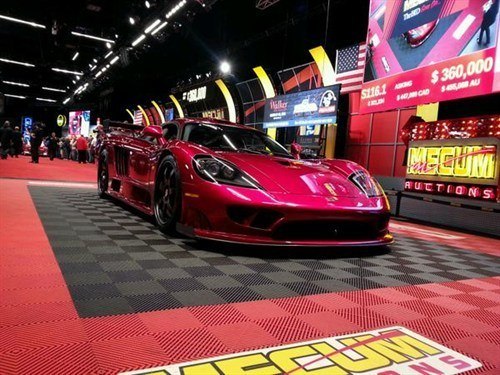 2005 Saleen S7 850HP twin turbo $350,000 Sold
More from the Mecum, Kissimmee 3,000 Car Auction: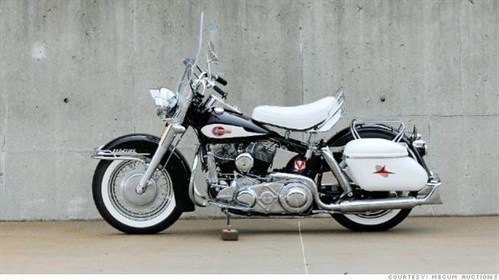 1959 Harley Davidson Duo Glide Jerry Lee Lewis $350,000 Sold
2003 Lamborghini Murcielago (yellow) $150,000 Sold
1961 Chevrolet Corvette 400HP 6-spd resto rod $125,000 Sold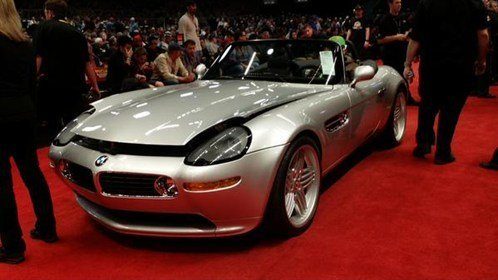 2003 BMW Z8 Alpina roadster $197,000 Sold
2006 Ford GT (black) $250,000 Sold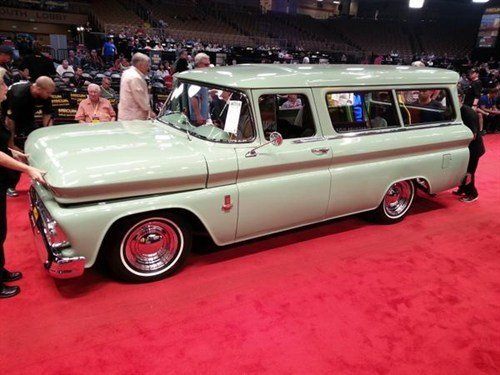 1963 Chevrolet Suburban 2-door $21,500 Sold
1968 Ford Mustang GT/CS $24,000 Sold
1963 Chevrolet Corvette split window coupe $72,000 Sold
1969 Chevrolet Camaro Z28 4-speed $34,000 Sold
1959 Chevrolet Corvette $67,000 Sold
1964 Porsche 356 $58,000 Sold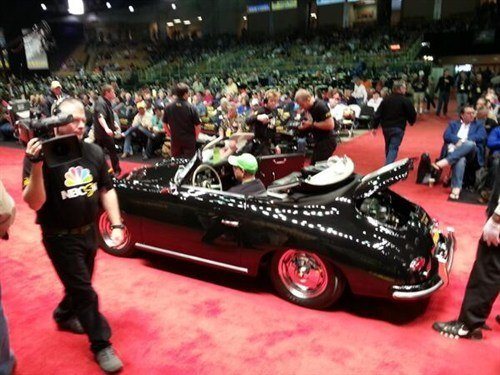 1958 Porsche 356A 1600 Super Cabrio $195,000 Sold
1966 Chevy Nova SS 327 4-speed $75,000 Sold
2000 Ford Mustang Cobra R $38,000 Sold
1969 Ford Mustang fastback $35,500 Sold
1964 Pontiac GTO $42,000 provisional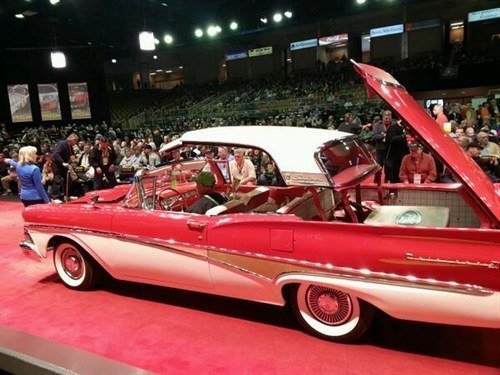 1958 Ford Fairlane Skyliner $42,000
1973 Pontiac Trans Am $82,000 provisional
1972 Dodge Charger $14,500 Sold
1973 Ford Bronco $15,000 Sold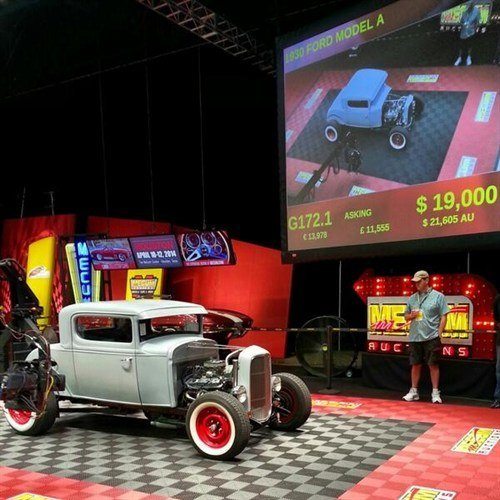 1930 Ford Model A 3-window hot rod $18,000 Sold
1969 Ford Mustang Mach 1 custom $31,000 Sold
1969 Ford Mustang 515c 600HP $44,000 Sold
1969 Chevrolet Camaro 427ci crate engine 5-spd $49,000 Sold
1969 Chevrolet Camaro Z28 $85,000 Sold
1968 Shelby Mustang GT500KR $133,000 Sold
1967 Chevrolet Impala SS 1967 $50,000 Sold
1967 Chevrolet Camaro RS hardtop $44,000 Sold
1964 Austin Healey 3000 Mk III $56,000 Sold
1955 Rolls Royce Wraith hearse SW $23,000 Sold
1968 Chevrolet Impala conv matching numbers $29,000 Sold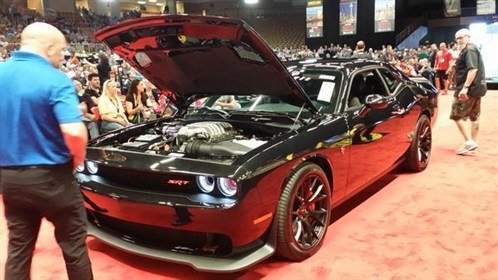 2015 Dodge Challenger Hellcat 707HP $82,000 Sold
1969 Mercedes-Benz 280SL pagoda $60,000 Sold
1991 Lamborghini Diablo 1991 $132,000 Sold
1969 Ford Mustang convertible $29,000 Sold
1996 Dodge Viper GTS $51,000 Sold
1976 Pontiac Trans Am (ex Burt Reynolds) $90,000 Sold
1965 Ford Mustang convertible (charity) $40,000 Sold
Comments
Author

Honest John
Latest