Stunning Duesenberg goes under the hammer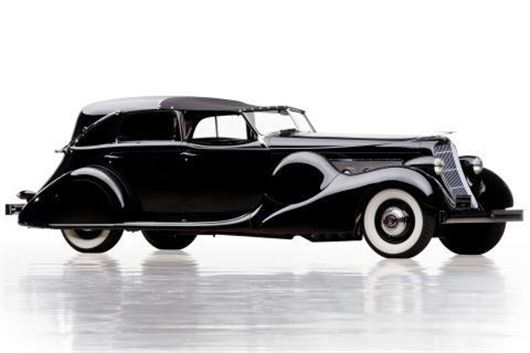 Published 16 January 2015
One of the most outrageous and ornate Duesenberg's made will go under the hammer at auction in America later this year.
Penned with actress Mae West in mind, the 1935 Duesenberg Model SJ Town Car used to be owned by candy-making heiress and horse racing legend Ethel V. Mars.
The car is from the collection of Paul and Chris Andrews. In total, 75 cars will be offered with 'no reserve' at the RM Auctions sale in Fort Worth, Texas, on 2 May.
Other headline cars include a covered headlight 1962 Ferrari 400 Superamerica SWB Cabriolet - the last of only seven examples bodied by Pininfarina and displayed as a factory show car at the Geneva and New York Auto Shows in 1962.
There is also an authentic 1963 Shelby 289 Competition Cobra, CSX 2011 - the first Cobra racing car sold to the public and one of three factory competition examples.
The Andrews Collection has taken years to build up. Both father and son are huge car enthusiasts, but have found it challenging and time-consuming to maintain the motors.
As well as all the mechanical work, their museum is regularly used several times a year for charity and club events.
As Paul Andrews said, 'When you get down to it, the most fun you can have in a car is using it how it's meant to be used… on the road.'
The sale on aims to bring the collection down to a more manageable level. Said Paul, 'We want to get down to a smaller number of cars – perhaps 15 to 20 – that we very much enjoy driving and that we can use on events with the family.' 
Comments
Author

Keith Moody
Latest