Eighties supercars in demand at RM sale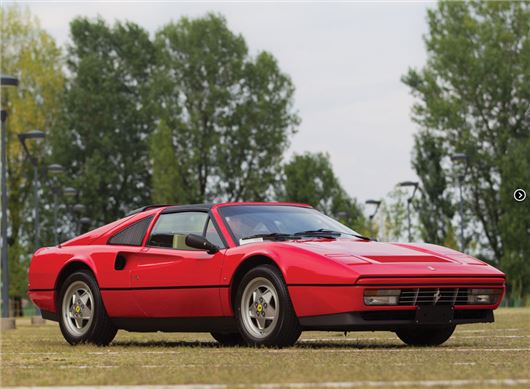 Published 15 September 2014
A low-mileage 1989 Ferrari 328 GTS smashed its pre-sale estimate on Tuesday, 9 September, to prove that demand for supercars from the Eighties and Nineties is definitely on the up.
The Ferrari, which was finished in Rosso Corsa with a beige leather interior had less than 200kms on the clock and was expected to make £95,000 max. In the end, the hammer fell at £156,800 at RM Auctions London sale.
And it wasn't just the Ferrari which capturer buyers' imagination, either. A 1990 Lamborghini Countach 25th Anniversary model – with just 2600kms on the clock – made £224,000. That's impressive against a pre-sale estimate of £140,000-£180,000.
Another Eighties icon, this time a 1984 Peugeot 205 Turbo 16 – a rare example of the mid-engined, Group B homologated WRC car in road-going trim – more than doubled its pre-sale estimate at a final £156,800.
In total, 80 cars – and one rocket (we'll get to that later) – passed through the hall, with 86% of all lots sold. That's £21.8m in total.
But it was a Ferrari that proved the most expensive car on the night when a 1956 Ferrari 250 GT Berlinetta Competizione 'Tour de France' made £4.87m
Chassis 0563 GT was one of just nine built by at Maranello and came with a strong racing pedigree, including two top ten finishes in the Tour de France road race.
It shared top-billing with another Ferrari – a restored 1966 Ferrari 275 GTB (chassis 08199) was one of only 60 constructed with alloy bodywork and fetched £1.96m.
And what about the rocket? Well, the CIAM-NASA Hypersonic Flying Laboratory 'Kholod' took pride of place outside the Battersea auction venue. The fastest serially produced machine to travel within Earth's atmosphere at 4925mph, this fascinating aerospace artifact sold for £38,025.
RM Auctions London - Top 10 sales
1956 Ferrari 250 GT Berlinetta Competizione 'Tour de France' – £4,872,000
1966 Ferrari 275 GTB Alloy – £1,960,000
1964 Shelby 289 Competition Cobra – £1,176,000
2003 Ferrari Enzo – £952,000
1989 Ferrari F40 – £761,600
1968 Lamborghini Miura P400 – £649,600
1958 Mercedes-Benz 300 SL Roadster – £616,000
1937 Bugatti Type 57C Stelvio – £593,600
1955 Lancia Aurelia B24 Spider America – £560,000
1970 Ferrari 365 GTB/4 Daytona Berlinetta – £543,200
Comments
Author

Keith Moody
Latest