Private collection to go under the hammer at Barons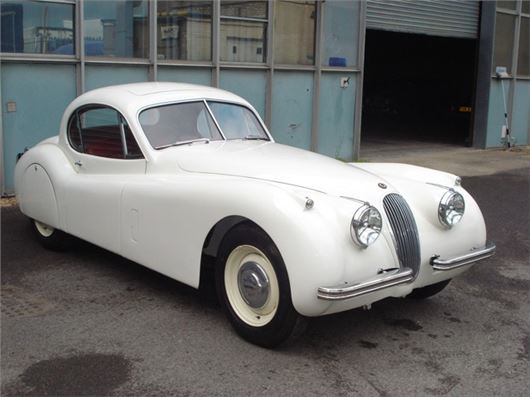 Published 05 August 2014
Barons' annual British Heritage sale at Sandown Park on Tuesday, 2 September, contains nine tempting classics from a private collection worth an estimated £200,000.
The collection was amassed by the late David Cheeseman, a Cumbria-based chicken farmer and self-taught engineer who collected cars and military vehicles. He restored many of his vehicles with the help of a small and dedicated group of friends.
Barons' managing director, Laurence Sayers-Gillan, says, "It's only fitting that our British Heritage sale should feature the collection of somebody who had a genuine love for British-built motor cars, and who dedicated much of his life to preserving and enjoying them."
The two standout cars from the collection are a 1954 Jaguar XK120 FHC and a 1958 Jaguar XK150 DHC, both of which have been restored. The XK120 is fitted with a rare, factory, steel sunroof and is worth an estimated £32,500-£38,500.
The XK150, which the owner was in the process of working on when he died, comes complete with hood frame and the materials to complete the new hood. It carries an estimate of £45,000-£55,000.
Other Jaguars from the Cheeseman collection include a 1972 S3 E-type FHC (£17,500-£20,000), a 1962 Mk2 3.8-litre sports saloon with manual transmission with Laycock de Normanville overdrive (£13,000-£15,000) and a 1970 XJ6 S1 4.2 (£4500-£5500). There is also a 1966 S-type, in need of restoration, which is offered at no reserve and a 1986 XJ40 Sovereign (£1000-£2000).
The sale also features a Triumph Stag from the collection. This 1978 example has been stored for some time, and will require a degree of recommissioning estimate (£6500-£8000). 
Other cars in the sale – not from the Cheeseman collection – include a 1973 E-type roadster (£38,000-£42,000), a beautiful 1933 Rolls-Royce 20/25 Sports Saloon (£37,500-£45,000), a 1965 Triumph TR4A requiring some TLC (£6000 to £8000) and a fully restored 1965 Mini Moke (£13,000-£15,000).
For more information, or to consign a car to the sale, visit Barons website.
Comments
Author

Keith Moody
Latest