Aston Martin that inspired Ian Fleming in Blenheim Palace auction.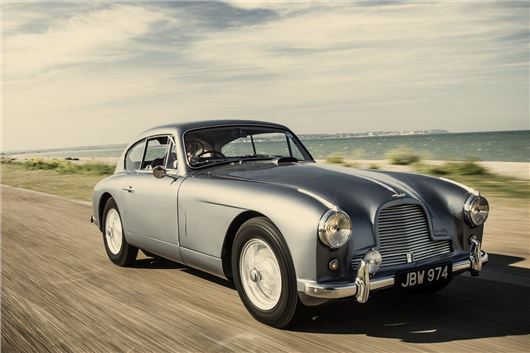 Published 09 July 2014
The Aston Martin that inspired Ian Fleming to put James Bond in one is coming up for auction by Coys at Blenheim Palace on Saturday 12th July.
In the novel 'Goldfinger', Fleming had James Bond abandon his 'Battleship Grey' Bentley R Type Continental for an Aston Martin DB4 appropriately modified for special agent use by the ubiquitous 'Q'.
Fleming is believed to have got the idea from an Aston Martin DB 2/4 Mk I Vantage, chassis number LML-819, owned by Phillip Ingram Cunliffe-Lister, whose father was Lord Swinton, a close confidant of Winston Churchill, head of MI5 and the Security Executive during WWII, and Ian Fleming's boss. Moreover, the vehicle was regularly at Fleming's next-door neighbour in Kent, which was the same place where he based the HQ of Sir Hugo Drax in his Bond novel Moonraker.

Some of the gadgets that appeared in Bond's car in the Goldfinger novel appear in this Aston Martin, including reinforced steel bumpers, concealed lockers, a heavy-duty anti-interference ignition system, driver's seat connections for two-way radio and a Halda Speed Pilot.    

Also appearing at the auction will be a 1951 Jaguar Mk V Drophead Coupé, one of the most desirable cars of its time, with exceptional performance and handling. Its age has added lustre to its reputation with the stylish drophead coupé being particularly desirable.  Estimated at £50,000 - £60,000, these were one of the most luxurious models of their day and still turn heads today.

A 1934 Bugatti Type 57 Series I Ventoux is estimated to make £275,000 to £320,000, featuring a 'profilee' windscreen and what were known as 'spats', which fill the rear wheel arches.  This is an uncommonly pure example of the superb early version of the design; the frontal aspect is balanced by a small integral projecting luggage boot, the exterior handsomely finished in Embassy Black and retains the correct wire wheels.

Alongside the car auction, visitors have been invited to bring with them their own classic cars for a Concours d' Elegance, which is set to feature the likes of a 1964 Ferrari 275 GTB/4, a 1967 Lamborghini Miura and many more, all to be judged by a selection of guest judges.

These include BBC Oxford's Roving Reporter Lilley Mitchel, AC Owner's Club Chairman Bertie Gilbart Smith, Royal Marine Lt Colonel Cliff Dare MBE and Karen Ellis, the CEO of Ellis Clowes specialist motor sport insurance company.  This event will provide a bit of light hearted entertainment, as well as giving those present a chance to showcase their own classic cars.

To celebrate the 350th anniversary of Royal marines, a number of military vehicles will be present on the day at Blenheim Palace, including a 1941 Austin Utility, a 1944 Bedford M.W, a 1936 Morris Commercial CS8 Mk3, amongst others. This marks a momentous anniversary of a vital part of Britain's Armed Forces, who were formed on the 28h October 1664 after an Order-in-Council was issued calling for 1200 soldiers to be recruited for service in the Fleet.  The military vehicles will be accompanied by a group of Royal Marines Cadets, and will be judged by Lt Colonel Cliff Dare, who will award the winner the 350th Anniversary Cup.

Not only will COYS be putting an extensive selection of classic cars under the hammer, they will also be putting over 90 motorcycles to auction on Friday 11th July at Blenheim Palace. 
More on the motorcycle auction here.
For more information on these lots and to view all other lots for sale, please visit www.coys.co.uk
Comments
Author

Honest John
Latest