Rare 1950s Classic Bikes in BCA Motorcycle Auction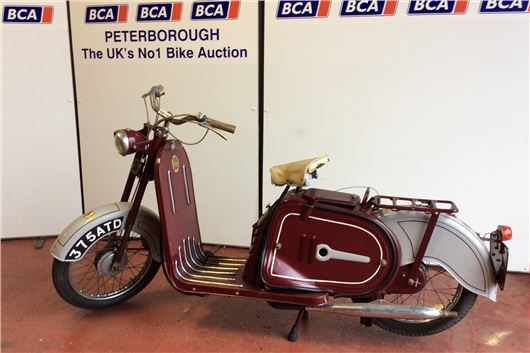 Published 29 May 2014
A collection of rare 1950s motorcycles feature in BCA Peterborough's next Motorbike Auction on Friday 30th May (tomorrow), alongside a further 150 bikes from a variety of fleet, finance and dealer sellers.
The five vintage bikes, plus an assortment of engines and a frame come from a single collection and are presented in good condition. It includes two fully refurbished British-built 'Bown' light motorcycle models from the early 1950s with Villiers engines, one finished in light blue with claret trim and panniers and the second in claret with gold trim and fitted with an engine fairing and rear basket.  
The collection also includes two rare French light motorcycles, an 'Alcyon' finished in light green and needing some refurbishment and an 'Armor' in black with gold and silver trim with panniers. The sale also features a very rare British 'Mercury' scooter in claret and white with gold trim, built between 1956 and 1958. 
Two vintage Villiers engines, a 'Bown' frame and other parts will also be offered on the day.
The sale also offers a fabulous mix of 'bikes, from cheap and cheerful mopeds to full-on sports bikes, with a good selection in 'ready to retail' condition including models by Harley-Davidson, Honda, Yamaha, Triumph, BMW, Kawasaki, Ducati and Suzuki.
The sale starts at 1.00pm at BCA Peterborough, Boongate PE1 5AH and all are welcome to attend and bid on the day.  For full details and catalogue listings go to BCA Peterborough
Comments
Author

Honest John
Latest