Report: Bonhams classic car auction, London, 1 December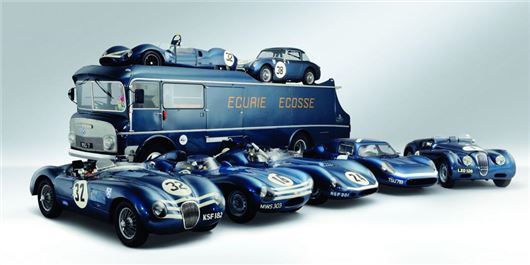 Published 02 December 2013
Bonhams' December sale at its London headquarters produced a set of blistering results, with the headlining Ecurie Ecosse collection being broken up and setting a number of records in the process. All eight cars in Dick Skipworth's collection sold at Bonhams, with even the team's transporter selling for an amazing £1.8m in an evening the sale totalled £16,861, 630.
News from the auction was utterly dominated by Ecurie Ecosse, with four of the Jaguars racing ahead of their rivals. The team's 1952 Jaguar C-type sold for £2,900,000, while the 1956 Jaguar 'Shortnose' D-type made £2,600,000. Both went to a buyer in the United States, amid auction-room applause. In addition, the Ecurie Ecosse Collection's Jaguar XK120 Roadster made a record £707,000.
However, the two-stroke truck that stole the headlines. The three-car Transporter, a 1960 Commer TS3 immortalised for many by the Corgi toy, exceeded all expectations as it was sold to the same US buyer who picked up the Jaguars for £1,800,000 after a telephone bidding war that lasted almost 20 minutes.
The 800-strong crowd in Bonhams' £30m New Bond Street headquarters – opened by London Mayor Boris Johnson on 24 October - erupted as auctioneer Robert Brooks' hammer sealed this sale of the most valuable historic commercial vehicle ever sold at auction.
Following the Ecurie Ecosse Collection's sale excitement, the spotlight turned to Ringo Starr's Facel Vega, which sold for £337,500 while seven-time Formula 1 World Champion Michael Schumacher's Benetton-Ford B194 went to a German museum in Boeblingen for £617,500, bringing the auction total to £16,861,630.
 
James Knight, Bonhams' Group Motoring Director, said: 'We always knew that today's Sale had the potential to be a roaring success, but nobody quite anticipated the incredible atmosphere in the saleroom that saw so many truly historic cars go for such astounding prices. The Jaguars especially were exceptionally popular, and I am delighted that the Transporter will still be carrying two of its original Ecurie Ecosse racing cars.'
Comments
Author

Keith Adams
Latest