Vulcanic extraction heads for Historics sale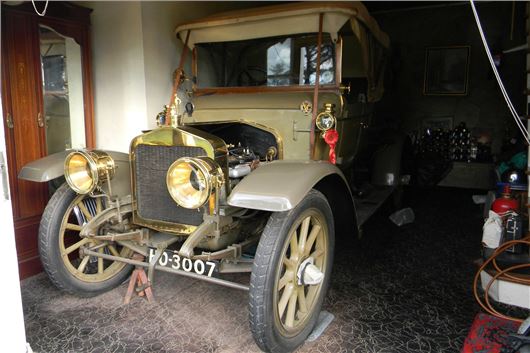 Published 05 November 2013
An historic 1911 Vulcan Motor Car has been extracted from the hallway of a residential home after sitting there as an ornament for 28 years. And following the death of its owner, the car is heading for auction with Historics on 30 November.

It's an interesting, if baffling, story, In 1985, the owner parked his pride and joy in the hallway of his home, with the intention of admiring it there just for the day. But in the end, it never emerged again during his life. Now, more than 10,000 days later, the front door to the hallway was opened, and the car wheeled onto the patio on the first part of its journey to auction.
This 15.9hp Vulcan two seat tourer with dicky seat was manufactured by Vulcan Motor and Engineering in Southport, Merseyside, nine years after the company was formed in 1902 by brothers Thomas and Joseph Hampson. Well-maintained throughout its life, the Vulcan was regularly dusted, polished and cosseted as any other household ornament whilst in the hallway, and is presented in completely original condition apart from period replacement lights and bulb horn.
It still bears its original grey paint, coachlined in gold, with opulent brown button-back leather seating and contrasting fawn roof and side screens. Having been kept in a warm, dry environment for so many years, the Vulcan is in fine condition and has been fully recommissioned, serviced and is running, as it did in 1911, powered by a four cylinder, two litre engine. 
It comes to sale at Historics supplied with a V5C registration document, an old style 'buff' log book and other such papers. This is a unique opportunity to purchase a piece of British motoring history for an estimated £27,000-33,000.
For more information, visit www.historics.co.uk, or call 01753 639170.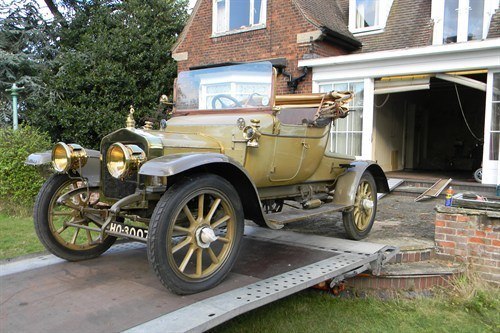 Comments
Author

Honest John
Latest