Preview: Bonhams classic car auction, Knokke-Le-Zoute, Belgium, 11 October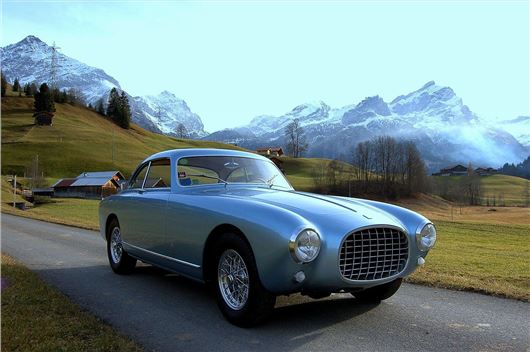 Published 01 October 2013
A Ferrari 250 Europa with a fascinating story heads up Bonhams' inaugural classic car auction in Knokke-Le-Zoute in Belgium on 11 October. The 1954 example had previously been believed to be a 212/250 with coachwork by Pininfarina, but new research reveals that it's actually a 250 Europa prototype - a far rarer and more valuable car.
Bonhams specialists along with the factory Classiche department as well as Ferrari authorities Marcel Massini and Antoine Prunet clarified the history of the Tipo 250 Europa Prototype, one of only two such cars produced. It is estimated to sell for €750,000-950,000.
It has come as a virtual new discovery in the Ferrari world that 0297EU was for decades misidentified as the last in the 212 series when the documentation and historical back tracking affirms that 0297EU is a very special short chassis prototype and the second 250 Europa produced with a 3000cc Colombo engine.
Two catalogues mentioning the 250 Europa also explain why the two real 'prototypes' 0295EU and 0297EU have confused observers over the years. One factory 10-page brochure common to the 250 Europa, the 500 Mondial and the 750 Monza credits the Europa with the Colombo (2953cc) engine and the 2600mm chassis.
An eight-page factory catalogue titled '250 Europa - 375 America' gives the correct standard 250 Europa figures of 2963cc for the Lampredi engine and 2800mm wheelbase, but includes two pictures of a car and a dashboard that could very well be 0297EU, while the car pictured in the other brochure is definitely of the later Pinin Farina design, actually showing 0321EU at a 1954 Montreux Concours d'élégance.
The 250 Europa offered after the Vignale bodied car 0295EU, chassis 0297EU was clothed by Pinin Farina and destined for American Motorsport Promoter Tom Marchese. Subsequently chassis 0299EU went to film director Roberto Rossellini in Roma. We see these first cars in the series were all assigned to Enzo Ferrari's high profile clients most having influence in the American target market.
Philip Kantor, Head of the Mainland European Motoring department, said: 'Following the success of our inaugural sale at the Spa Classic in May, we are delighted to be heading to Knokke-Le-Zoute for the second of our two new auctions in Belgium this year. Having this very special Mille Miglia eligible Ferrari that participated in 2010 will doubtless add to the excitement of the sale.'
The inaugural Bonhams Zoute Sale will be held in conjunction with the Zoute Grand Prix Rally and Concours d'Elegance, which is held this weekend (10-13 October). The Rally, which begins and ends at Knokke-Le-Zoute, features 160 cars manufactured between 1920 and 1965, while the wider event will include exhibitions from car manufacturers and the Zoute GP Tour – a drive from St-Martens-Latem to Knokke-Le-Zoute reserved for GT cars that are less than 20 years old.
Comments
Author

Keith Adams
Latest