Video: Bonhams' Alfa Romeo breaks records at the Revival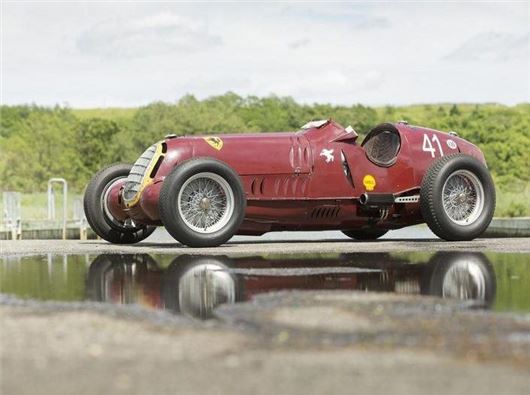 Published 16 September 2013
The ex-Tazio Nuvolari 1935 Alfa Romeo Tipo C 8C-35 '50013' - Scuderia Ferrari Nr '65' sold for £5,937,500 at Bonhams Goodwood Revival Meeting, creating a new world record for an Alfa Romeo sold at auction.
The previous record for this marque was £4,245,118 for a 1933 Alfa Romeo 8 cylinder Monza 2300 sold in California in 2010. Bonhams Goodwood Revival sale saw the iconic 330-horsepower supercharged Alfa Romeo Grand Prix car make history yet again at the scene of its best-remembered post-war exploits, Goodwood. Now '50013's pre-war record as a truly classic, race-winning Alfa Romeo, campaigned by Tazio Giorgio Nuvolari, has a new laurel - a world record price.
The result means Bonhams now hold world records for the following 11 marques at auction: Alfa Romeo (£5,937,500, Aston Martin (£3,200,000), Austin-Healey (£843,000), Bentley (£5,000,000), Jaguar ($4,955,000/£2,655,000), Lagonda ($1,382,000/£740,000), Lotus ($998,000/£672,000), Maserati (£4,033,500), Mercedes-Benz (£19,601,500), Rolls-Royce (£4,700,000) and Talbot-Lago ($4,847,000/£2,597,000).
Another world record was made at this sale for a standard road-going E-type Jaguar with a 1961 E-type 3.8 Series 1 flat floor roadster going for £225,500. It was owned by one family since 1963. An ex-Works, Irish Tourist Trophy, Brooklands 'Double-Twelve, George Field, Dudley Froy 1931 Invicta 4.5-litre S-Type 'Low Chassis' Sports with coachwork by Cadogan sold for £953,500.
A 1972 Lamborghini Miura SV Coupe with coachwork by Carozzeria Bertone, a car delivered new to Rod Stewart, one of just seven right hand drive examples went for £919,900. A 1961 Ferrari 250GT Series II Cabriolet with coachwork by Pininfarina, in need of restoration. It had been in the same family for 40 years, and was sold for £707,100.
James Knight, Bonhams International Managing Director Collectors Motor Cars, said after the sale: 'Once again Bonhams has been privileged to offer a world-beating motor car and help it to achieve a world-beating price. Selling something like this, one is aware that history is a guest at the auction, due to the car's past, its performance today, and what all automotive enthusiasts will say about the car in the future. It is more than a car for all of us who are passionate about cars.'
For more information, visit the Bonhams website.


Comments
Author

Keith Adams
Latest