Preview: Artcurial classic car auction, Paris, 20 October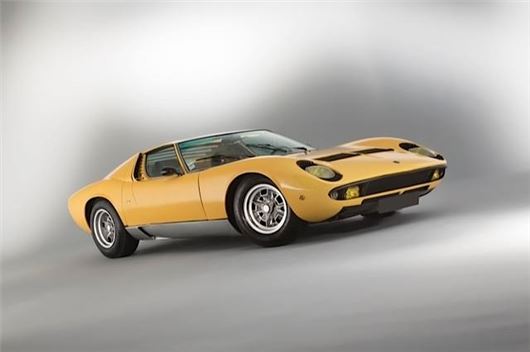 Published 27 September 2013
The French auction company Artcurial Motorcars has been enjoying a very successful couple of years since its big staff reshuffle, and it's hoping for another big-numbers sale on 20 October topped off by  a wonderful 1968 Lamborghini Miura.
The Lamborghini (above) has enjoyed an interesting history. Sold new in France, it started its life as a demonstrator for Parisian dealer Paris Monceau, originally presented in silver grey with mustard coloured leather interior. It has been in the hands of the current owner since 1998, during which time it has been maintained and driven regularly, with the engine and transmission re-built by marque specialist Toni Sissini. It's a snip at the €400,000–450,000 estimate.
Other highlights of this sale include a 1962 Maserati 3500 GTi Cabriolet (€300,000–400,000), one of just 242 built. The 1962 Ferrari 250 GTE coupé (€150,000-200,000) is an original and unrestored example in what Arturial describes as 'wonderful condition, with the charming patina of the upholstery and trim convey the life of this car, in the hands of enthusiasts for over 50 years.' For us, it's one of the final relatively affordable ways of getting into Ferrari 250 ownership.
The 1972 Dino 246GT (€170,000–210,000) shows how far these 'baby' Ferraris have come in the past 10 years. It's an American-spec car with four previous owners, and that estimate is spot-on. Rememer when these were under £75K? It wasn't that long ago.
For anyone who might think the Dino 246GT was a mid-engined pioneer, we give you the Matra Jet - the first mid-engined production sports car, introduced in 1965. This 1966 Jet V Luxe (€30,000-40,000) is a lovely example - it's been in the hands of the same family from new, and has just 43,000km on the clock.
Finally, we couldn't let this one pass without comment. The 1990 Lamborghini LM002 (€80,000–120,000) is an amazing car - built to cross deserts, and yet powered by a Countach engine, it's one of the wildest off-roaders ever made. With just 301 examples built, it is now highly sought after - although not recommended for short journeys or city-bound owners.
More details at www.artcurual.com
Comments
Author

Keith Adams
Latest