Report: RM classic car auction, Monterey, 16-17 August
Published 19 August 2013
RM Auctions enjoyed a record weekend of sales at its 2013 Monterey auction, the highlight of its auction calendar. The top-selling Ferrari 275 GTB/4*S NART Spider established a new record, but although this was a highlight, a further 25 cars broke the one million dollar barrier during the two-day sale.
Second biggest seller of the weekend was the 1953 Ferrari 375MM Spider (below) which topped the Friday sale at  $9,075,000. It was bought new by Jim Kimberly of the Kimberly-Clark business empire, the car was campaigned extensively in period and won the SCCA National. The sale of this historic car further demonstrates the strength of the Ferrari marque and the demand for blue-chip examples with exceptional provenance and continuous documented history.  
Alongside the NART Spider, the 2012 Pebble Beach Best of Show-winning 1928 Mercedes-Benz 680S Torpedo Roadster, which sold for $8,250,000, was a major draw, establishing the German company's record in the auction top-seller's list.
Another star was the 1928 Mercedes-Benz 680S Torpedo Saoutchik Roadster is an exquisite, multi-award-winning car which was judged Best of Show at the 2012 Pebble Beach Concours d'Elegance. The car achieved a remarkable $8,250,000, as international bidders battled to secure what is widely considered to be one of the most desirable pre-war cars ever made.
The 375MM was just one of numerous cars to achieve exceptional prices during the sale. Another car to attract significant pre-sale interest from collectors around the world was the 1939 Mercedes-Benz 540K Special Roadster, a rare and stunning pre-war grand touring car with one-off coachwork by Sindelfingen. Offered in outstanding, restored condition, this wonderful car garnered $7,480,000. Two further lots enjoyed exceptional bidding, including the 1955 Ferrari 750 Monza Spider, another spectacular sports racing Ferrari from the golden era of motor sport, which sold for $4,070,000 and the 1955 Jaguar D-type, which sold for $3,905,000.
RM Auctions top 10 sellers list
1967 Ferrari 275 GTB/4*S N.A.R.T Spider - $27,500,000
1953 Ferrari 375 MM Spider – $9,075,000
1928 Mercedes-Benz 680S Torpedo Roadster - $8,250,000
1939 Mercedes-Benz 540K Special Roadster  - $7,480,000
1955 Ferrari 750 Monza Spider - $4,070,000
1955 Jaguar D-Type – $3,905,000
1954 Ferrari 500 Mondial Spider Series I - $3,520,000
1974 McLaren M16C Indianapolis - $3,520,000
1950 Ferrari 166 MM Barchetta – $3,080,000
1961 Ferrari 400 Superamerica SWB Coupe Aerodinamico – $2,750,000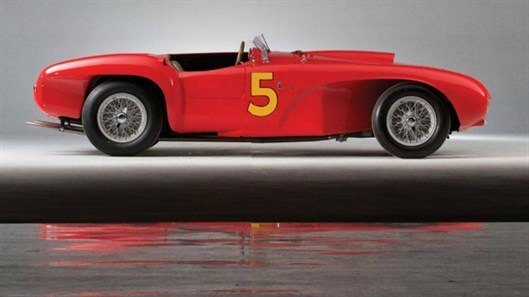 Comments
Author

Keith Adams
Latest