Jaguars top the bill at Historics this weekend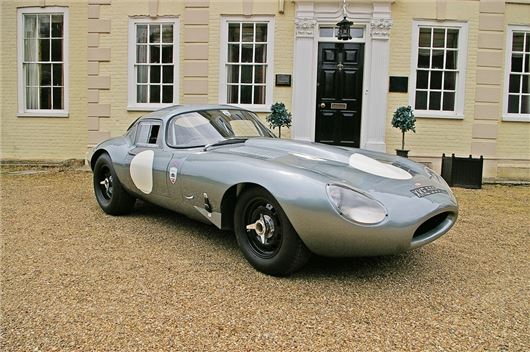 Published 28 August 2013
Historics' 31 August sale promises a great selection of traditonal English sports cars for those looking for the quintessential summer classic car. But star of the sale is a 51-year old Jaguar E-type 'Low Drag Coupé', which will no doubt attract the highest bids of all the 50 sports cars on offer.
The low-drag is described by Historics as an 'FIA-compliant tribute to the rare factory-built lightweight E-type', and it has recently  variant has emerged from a two-year specialist rebuild. The aluminium bodywork clothes full race-specification internals including a 375bhp dry sump racing powerplant - and with those all important FIA papers, it will undoubtedly be in demand.
It comes with FIA Class GTS12 papers, Jaguar Heritage Certificate, UK V5C registration document, MoT test certificate and historic road fund license. Historics is pegging XKE 559 with an estimate of £150,000-£185,000.
Other Jaguars on sale include two top-end E-type Series I Roadsters of 1964 vintage (£78,000-£90,000) and a further immaculate 1968 Series 1½ Roadster in Old English White (£66,000-£76,000). As well as E-types, there are two very interesting XK150s. First is a 1960 XK150SE Drophead Coupé barn find from the USA in need of total restoration estimated at £38,000-£45,000; and the second, a 1960 XK150SE Fixedhead Coupé comes in at a near identical £38,000-£44,000. Clearly, the lure of bard find is strong with this one...
MG is strong at the sale, too. There are two MGBs, one from 1966, which is offered at No Reserve and represents a potentially appealing starter classic, while a tidy 1974 model, sitting on Minilite-style alloy rims, is restored and tempting at £3750-£5250. Keep an eye out, also, for a pair of Austin-Healeys. There's a 1955 100/4 BN1 and 50 year-old  3000 Mk IIa BJ7, both looking good and estimated at £28,000-£35,000.
In total, 127 cars are on offer, and the 30 August sale at Brooklands begins at 10.00am. For more information and the full consignment list, visit www.historics.co.uk.
Comments
Author

Keith Adams
Latest