Anglia Car Auctions makes a million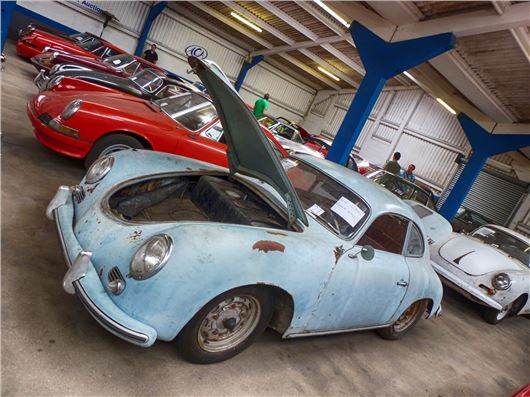 Published 28 August 2013
Confirming the allure of the barn find, as well as the strength of the Porsche market, Anglia Car Auctions had a great weekend by effectively combining the two. The auction house bagged a total sale of £1.25m, thanks to the late inclusion of 30 rare Porsches in the Bank Holiday weekend event.
Sale totals were impressive - out of the 167 lots up for sale overall, 70% were sold with provisional offers outstanding on a further 16%. And more than 90% of the lots offered from the Porsche collection were sold, raising in excess of £500,000, with the 1959 356B Roadster and the 1963 356 Super 90 Cabriolet each raising £61,950 with premium. Even the cheapest selling Porsche – a 1965 911 LHD rolling shell exceeded its estimated price of £5000 with the hammer coming down at £7140 with premium.
Other big sellers included the Mercedes-Benz Pagoda, with a 1968 model selling at £44,100 with premium, while the Warwick grey 1971 Jaguar E-type 4.2 series II roadster sold for £46,200. The 1961 Lancia Flaminia Touring Coupe sold for £38,850, while the restoration 1960 Daimler SP250 Dart went for £12,390, and the eye-catching 1968 Vignale Fiat Gamine Roadster at £18,375.
Entries are now being accepted into ACA's next classic auction on 9 November. More information on Anglia Car Auctions, visit www.angliacarauctions.co.uk
Comments
Author

Keith Adams
Latest