Report: RM classic car auction, Michigan, 27 July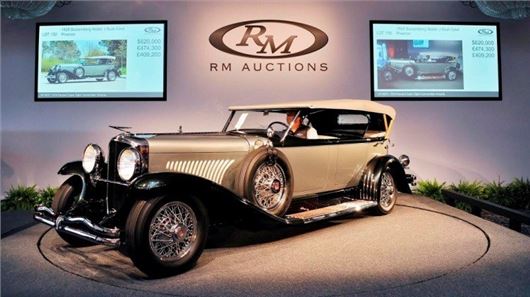 Published 29 July 2013
RM Auctions returned to Michigan with a highly successful single-day sale at the Inn at St. John's, 27 July. The auction in America's automotive heartland saw 77 cars, two boats, and one motor cycle sold, generating more than $7.7 million in sales with for a 90% sale rate.
Top honours at the sale, held in conjunction with the famed Concours d'Elegance of America at St. John's along with the 2013 Automotive Hall of Fame Induction & Awards Ceremony, went to a 1929 Duesenberg Model J Dual-Cowl Phaeton (above), which made $682,000. 
Additional notable sales include a selection of motor cars from the collection of Michigan-based enthusiasts Richard and Linda Kughn, led by a 1934 Packard Super Eight Convertible Victoria which sold well at $225,500; a 1934 Lincoln Model KB Convertible Sedan at $275,000 and a 1942 Lincoln Continental Cabriolet at $126,500, exceeding pre-sale expectations; and a range of classic American convertibles from a 1939 Ford DeLuxe Convertible ($140,250) to a 1961 Imperial Crown Convertible ($148,500) which each realized strong prices at the summer sale.
'We were very happy with the results of this year's sale, a 90 percent sell through rate shows that quality motor cars continue to bring strong prices at auction,' said Gord Duff, car specialist, RM Auctions. 'We've received a tremendous amount of positive feedback about the auction roster and venue and were once again honored to work with such a great team at the Concours d'Elegance of America at St. John's. Together, the two events made for an exceptional weekend for enthusiasts and collectors from five countries and 30 states across the US.'

RM St. John's Top 10 Sales
1929 Duesenberg Model J Dual-Cowl Phaeton, $682,000
1932 Packard Individual Custom Eight Convertible Victoria, $374,000
1932 Packard Twin Six Sport Phaeton, $330,000
1933 Marmon Sixteen Five-Passenger Sedan, $330,000
1934 Lincoln Model KB Convertible Sedan, $275,000
1931 Cord L-29 Cabriolet, $231,000
1934 Packard Super Eight Convertible Victoria, $225,500
1935 Packard Twelve Coupe Roadster, $187,000
1937 Cord 812 Phaeton, $173,250
1931 Lincoln Model K Sport Phaeton, $165,000
Comments
Author

Keith Adams
Latest