Preview: Historics classic car auction, Brooklands, 31 August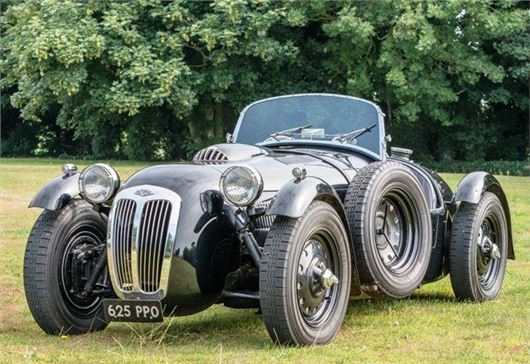 Published 29 July 2013
A Frazer Nash Le Mans replica is one of the stars of Historics classic car auction at Brooklands on 31 August. The Le Mans Replica Evocation on offer is 'WOK1', Oswald Werner's personal prototype, manufactured in 1988 and employing parts, as required, from a Bristol 405. Estimate is £105,000-120,000.
The most exciting aspect of this Le Mans Replica Evocation is that you can take it racing - in all of the best events, thanks to its FIA papers. It was manufactured in 1988 and used parts, as required, from a Bristol 405. Once finished with by its constructors, it was purchased by Peter Mann and then subsequently owned in turn by Bob Beck and Robert Brock of Longnor, Buxton, before being acquired by the vendor. Sporting black coachwork and black interior trim, '625 PP0' has been treated to a considerable amount of remedial work in the last four years courtesy of Spencer Lane Jones.
This has included a gearbox overhaul and the fitting of high-ratio gears, the refurbishment of the cylinder head, oil pressure relief valve, trio of downdraught Solex carburettors, clutch (new centre plate), brakes, steering column and rear suspension. This well-presented and extremely competitive example is being sold with FIA Appendix K papers as well as an HTP passport that make it eligible for most of the world's high-profile historic racing events. UK road registered and with a comprehensive history, this represents extremely interesting access to Goodwood, the Tour Auto and the Mille Miglia.
Never offered in fully assembled form, they were sold as kits leading to them being known as WOKs - Werner Oswald Kits. During the production phase it was discovered that the name Frazer Nash Cars had remained dormant for a number of years and so was duly purchased by the company in order to legitimately allow its products to be advertised as 'made by Frazer Nash Cars'.



Comments
Author

Keith Adams
Latest