Ferris Bueller's replica Spyder up for sale with Mecum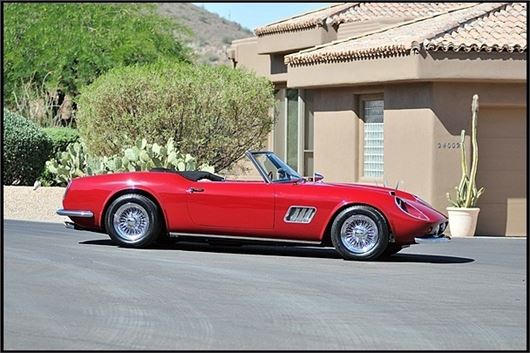 Published 01 July 2013
If we say Modena Spyder California, you might not know what we mean - but you'll see from the accompanying images, the car is supposed to bear more than a passing resemblance to a certain super sports car from Italy. This particular car is none other than the star of the 1986 film Ferris Bueller's Day Off, and is one of only three made, and it's up for sale with Mecum auctions on 15-17 August in California.
The current owner spent 10 years restoring it, and it's a testament to the vision of its creators, California entrepreneurs Neil Glassmoyer and Mark Goyett. They founded Modena Design and Development in El Cajon to manufacture the Spyder California, a Ferrari 250GT Spyder-replica.
It attracted the attention of Hollywood director John Hughes, who was in the planning stages of making Ferris Bueller's Day Off. He was looking for a classic super sports car to take the central role in the film. 'The first time he called I hung up on him because I thought it was a friend of mine who was given to practical jokes,' Glassmoyer recalled.
'Then he called back and convinced me it really was him, so Mark and I took the car to his office. While we were waiting outside to meet Hughes this scruffy-looking fellow came out of the building and began looking the car over; we thought from his appearance he must have been a janitor or something. Then he looked up at a window and shouted, "This is it!" and several heads poked out to have a look. That scruffy-looking fellow was John Hughes, and the people in the window were his staff. Turned out it was between the Modena Spyder and a Porsche Turbo, and Hughes chose the Modena.'
'They gave us four weeks to build the movie cars,' Glassmoyer added. 'I always say we built two and a half cars; two were interchangeably used as Hero and stunt cars and one was a rolling fiberglass shell that was used in the destruction scene. This car was actually intended for the stunt work, but both saw action, and both wound up with broken front suspension bolts because the big jump scene took nine takes between the two cars.'
The partners sold Modena Design and Development soon after the release of Ferris Bueller, but in 1988 Neil Glassmoyer leapt at the opportunity to buy back one of the movie cars, which he has owned ever since.
A few key upgrades have been made during the restoration - the original 1963 260cu in Ford V8 (which allowed the car to be officially titled as a 1963 Modena) has been replaced by a balanced and blueprinted 351 V8 bored out to 427cu in and fitted with an Eagle forged steel crank, I-beam connecting rods, forged J&E pistons.
It's in great condition with great film connections, so expect it to sell well at its no reserve auction during the classic car world's greatest week long gathering. More at www.mecum.com
Comments
Author

Keith Adams
Latest