Jet tops record-breaking Aston sale at Bonhams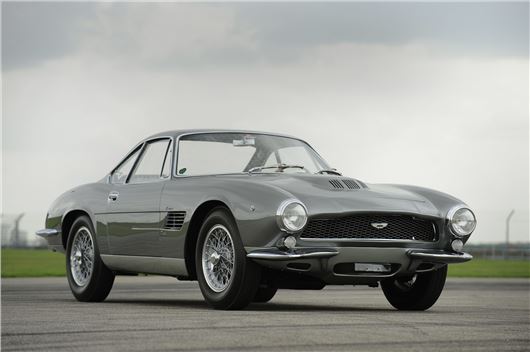 Published 21 May 2013
The unique Aston Martin DB4-based Bertone 'Jet' heads Bonhams' annual Works Service sale at Newport Pagnell, selling for £3,249,500, and breaking the world auction price for a car from this marque in the process. The headline figures for the sale, a social event in its own right that's growing in popularity, were 100% of cars sold and a sale total of £10m.
The Bonhams auction at the Aston Martin Works Service took place in the marque's centenary year. It was the 14th annual running of the sale, and continued the upward trend in the results for the fixture in the auction calendar. The packed auction room (usually the Works Service workshop) witnessed many lots achieve well above their top estimates, including a trio of barn finds – a DB4, a DB5 and a DB6.
But it was the multiple-award-winning Jet was the star, attracting intense interest from bidders in the room and on the telephones, with bidding escalating at increments of £100,000 at a time. The car was the last off the production line and is a complete 'one-off' with coachwork by Giorgetto Giugiaro, then working for the Italian design house Bertone.
The car was offered from a deceased estate, and came to market for the first time in over 25 years. Its late owner owned several other Aston Martins, before falling for 'The Jet' in 1986. He had it restored to concours condition by the factory, since which time it has won 12 awards including 'First in Class' at Pebble Beach and the Hurlingham Club, and 'Best in Show' at Villa D'Este.
 
Meanwhile a trio of barn finds – a DB4, a DB5 and a DB6 – each of which had been hidden from view, languishing in a barn or garage for more than three decades, achieved a combined total of £609,300. The 1966 DB6 Vantage Sports Saloon Project, sold for more than five times its estimate at £107,900 after intense interest from bidders in the room and on six telephone lines. There were gasps and a spontaneous round of applause as the hammer fell.
James Knight, Bonhams Group Motoring Director, said after the sale: 'I really did not think we could eclipse the record-breaking total achieved at this sale last year, but I am thrilled that – in Aston Martin's centenary year – we have achieved just that. To sell every lot in an auction is almost unprecedented. When the first car lot realised £190,000 against an estimate of £50,000 I thought this was going to be one of those special days and it was, culminating with the new world auction record set by the Jet.'
Top 10 sellers at the Works Service Auction
1960 Aston Martin DB4GT 'Jet' Coupé, sold for £3,249,500
1964 Aston Martin DB5 Convertible, sold for £510,000
1965 Aston Martin DB5 Sports Saloon, sold for £460,700
1968 Aston Martin DB6 'MkI' Volante Convertible, sold for £460,700
2000 Aston Martin SWB Vantage Volante Special Edition, sold for £404,700
1964 Aston Martin DB5 Sports Saloon, sold for £320,700
1964 Aston Martin DB5 Sports Saloon, sold for £315,100
1969 Aston Martin DB6 Vantage Volante, sold for £309,500
1964 Aston Martin DB5 Sports Saloon, sold for £303,900
1964 Aston Martin DB5 Sports Saloon, sold for £259,100
Comments
Author

Keith Adams
Latest