Ex-Fangio Mercedes-Benz GP car to head Bonhams' Goodwood sale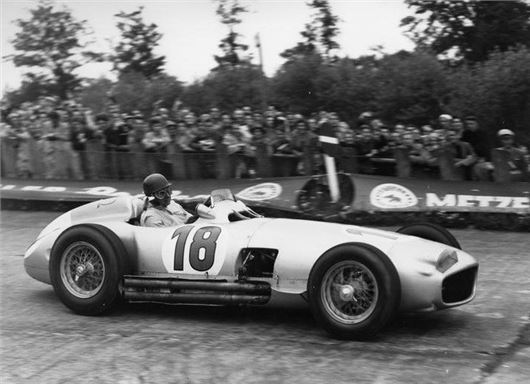 Published 02 May 2013
The double Formula 1 Grand Prix-winning Mercedes-Benz W196 which helped Juan Manuel Fangio to his second drivers' championship in 1954 is to be offered for sale by Bonhams at the Goodwood Festival of Speed on 12 July. Estimates vary widely to its worth, but expect it to break records when it sells.

The 2.5-litre straight-eight single-seater – chassis number 00006/54 – was the first open-wheeled, 'slipper'-bodied postwar Mercedes-Benz to win a Formula 1 Grand Prix, and its innovative design marked the introduction to the sport of the following technologies:
Fuel-injected engine
Mercedes-Benz all-independent suspension
Multi-tubular spaceframe lightweight chassis design
All-round inboard-mounted brakes
The in-line or straight-8 engine lay-down configuration to minimize the car's overall height
Power take-off from the center of the engine's long 8-cylinder crankshaft to minimize vibration
Desmodromic valve actuation
Fangio's victories in the 1954 German and Swiss Grands Prix were the first to be achieved in succession by the frontier-technology Mercedes-Benz factory Formula 1 team in its postwar racing come-back. During just 14 months of Formula 1 racing before it was retired from racing by the German factory team at the end of 1955, the car contested five World Championship-qualifying Grand Prix races. Driven first by Fangio, it was later assigned to junior driver Hans Herrmann for the 1954 Italian GP, where it finished fourth.

In that year's Spanish Grand Prix, Hans Herrmann's race in 00006 ended with engine trouble. The car was then used in just one 1955 Grand Prix – the Italian event – when, driven by Karl Kling, it ran in second place behind Fangio's sister Mercedes-Benz before suffering gearbox failure.

The car was then re-prepared to full race standard and consigned to the Daimler-Benz Museum on 22 December 1955. In June 1965 it was exhibited in Munich and during 1966 it was shown at both Le Mans in France and Hockenheim in Germany. It then appeared at the 1967 British Grand Prix at Silverstone, before being run in a tire test at the Unterturkheim factory test-track, and displayed in Berlin. In November 1967 it was exhibited at Stuttgart University.

Further public appearances followed in 1969 in Luxembourg, Berlin and Hamburg. A Daimler-Benz Museum archive document records that as of November 5, 1969, the car 'should be available at any time for R. Uhlenhaut' – the company's illustrious chief engineer – '...for testing purposes'. On 24 June, the car ran in engine tests at Unterturkheim before on 22 May 1973, Mercedes-Benz officially presented it to the National Motor Museum in Beaulieu, Hampshire, England.

In the 1980s the car was sold into private hands. It was preserved first in the UK by Anthony – now Sir Anthony – Bamford of JCB Excavators, then in France with Jacques Setton. It passed subsequently into the ownership of a German businessman in whose care the car was run at the Monaco Historic meeting, at Goodwood, and in California from 1999-2000.
Today, after many years out of public view stored in a warehouse, Mercedes-Benz W196 goes on sale at the Goodwood Festival of Speed. This is the only Mercedes-Benz W196 in private hands. It is the only surviving Mercedes-Benz W196 to have won not just one World Championship Grand Prix, but two. It will be interesting to see who buys it, and what they pay - we reckon anything between £4,000,000 and £10,000,000.
Comments
Author

Keith Adams
Latest