Barn find Maserati shines at Silverstone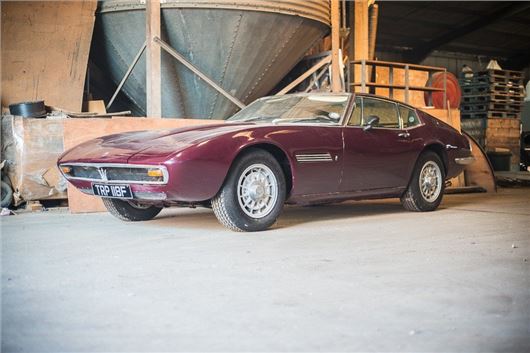 Published 21 May 2013
It had been much anticipated beforehand, but no one expected that it would do quite so well. The 'barn find' Maserati Ghibli doubles its pre-sale estimate to sell for £31,625 at Silverstone Auctions' spring sale. It was part of a £900,000 haul and a 62% sales success rate.
But it wasn't just the Ghibli that starred out of 62 lot sale. Other cars to do well included a 1968 Ford Mustang 390 Bullitt, selling for £56,900, a 1986 Ferrari Testarossa, fetching £68,660 (proving these are slowly coming into fashion), and a 1975 Maserati Merak by Saurer, which found a new buyer for £45,700.
Other top perfomrmers included included a 1964 Ferrari 330GT Series 1, which sold for £89,380, a 1971 Porsche 911 2.2S, which fetched £82,100 and a 1967 Karmann Ghia 'Razor Edge', selling for £26,450. Silverstone's next auction takes place at the Silverstone Classic on 27 July, and has already attracted plenty of pre-sale publicity via its ex-Longbridge Tunnel Mini.
Nick Whale, managing director, Silverstone Auctions said: 'This was our first sale of 2013 at Silverstone so it's terrific to mark our return in such an emphatic manner. The collection we pulled together not only looked superb, but lots were sensibly guided which was reflected in these great results.'
Top 10 selling cars from the sale
1964 Ferrari 330GT Series 1, sold for £89,380
1971 Porsche 911 2.2 S, sold for £82,100
1986 Ferrari Testarossa, sold for £68,660
1968 Ford Mustang Bullitt, Genuine 390 'S Code' and Highland Green Car, sold for £56,900
1975 Maserati Merak by Saurer, sold for £45,700
1956 Ford Thunderbird with Porthole Hardtop, sold for £34,500
1985 Porsche 911 2.8 RSR Replica, sold for £32,430
1968 Maserati Ghibli, sold for £31,625
1994 Ferrari 348 Spider, sold for £29,900
1970 Porsche 911T Targa, sold for £ 27,730

Comments
Author

Keith Adams
Latest