Preview: Silverstone classic car auction, Northamptonshire, 17 May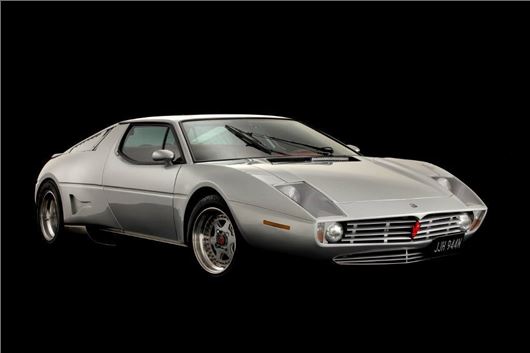 Published 22 April 2013
If you like your Italian mid-engined sports cars a little different, may we suggest you take a look at this striking Carrosserie Saurer-modified Maserati Merak that's being offered by Silverstone Auctions in its 17 May sale at the  world famous racing circuit.
It's definitely a one-off. The 1975 Merak was subjected to this substantial facelift during 1984 by the Swiss motor sport specialist. The redesigned bodywork was created to achieve what Paul Saurer considered to be his ideal 'Hot Merak' - and it certainly looks suitably beefed-up, with a wide-body style that's easy capable of going toe-to-toe with the contemporary De Tomaso Pantera or Lamborghini Countach.
Interestingly, it retains the standard car's original running gear. Silverstone Auctions says this, 'only increases its collectability', but we'd say that it's a shame that the 200bhp V6 under the engine cover won't deliver the performance the wild looks hint at. As it's already modified, what harm would a suitably hotted-up engine do?
We love the early left-hand drive interior, which retains the Citroen SM dashboard almost completely unmodified, although its bright red retrim is certainly attention grabbing.
But it is a well-recorded car, with a fully documented history, and that counts for a great deal in today's market, even if the styling's a little Marmite (love it or hate it).
The car is available for viewing at the new Wing building at Silverstone race track before the car auction commences at 2.00pm on Friday 17th May. For more information about this very special 1975 Maserati, estimated at between £35,000 to £40,000, or for any of the other cars being offered at the International Trophy Sale, visit www.silverstoneauctions.com.


Comments
Author

Keith Adams
Latest