Restoring Jaguar's Heritage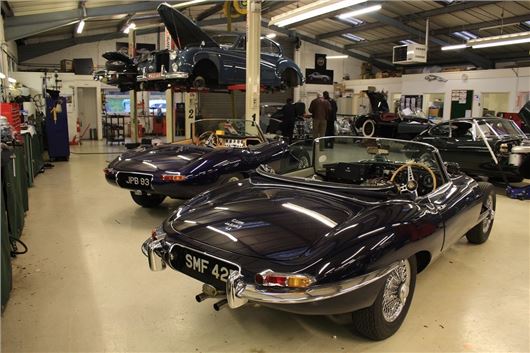 Published 09 December 2013
Classic Motor Cars - or CMC - celebrated its 20th year in business in 2013, knowing that during its relatively short existence, it's already established itself as one of the world's greatest Jaguar specialist and restoration companies in the world. Managing Director, Nick Goldthorp, will stress that much of this success will be down to word-of-mouth testimonies passed between satisfied customers and their friends, but the sheer quality of the high-profile cars that the company has handled guarantees a much wider audience.
CMC is based in Shropshire, near to the picturesque market town of Bridgnorth - far from the motoring 'Silicon Valley' in the south, where you might expect it to be. Its 35,000sq ft premises are spread across a number of anonymous-looking grey industrial units, that at first glance look a little disappointing. But given that many of the cars that pass through the company's expert hands can have seven-figure insurance valuations, this discretion is probably no bad thing.
We're here to meet Nick Goldthorp, very much the driving force of the company - and clearly a man who has the spirit of Browns Lane running through his veins. He's tall, softly spoken, and effortlessly charming and never has a Jaguar jacket looked more in place than on Nick's back. Before we get down to brass tacks about the finer points of CMC, we're treated to a guided tour of the place. Nick insists that you need to take in the scale of the operation, as well as the expertise of the company's 34 craftsmen to really understand the heart and soul of the company.
That's a wise move, because although you see CMC's size as you drive up to it, what you don't get a flavour of is the sheer diversity of what goes on inside, and how the business is split up into a number of areas of expertise. We are led through the servicing area (above), which is currently home to about 12 different Jaguars - work here can vary from a general oil and filter change to a full electrical rewire. The sight of a number of E-types on two-post lifts, alongside Mk2s and XKs in the service bay is heartening - and one that evokes memories of Jaguar garages of old - without the cigarette smoke, and radio in the background.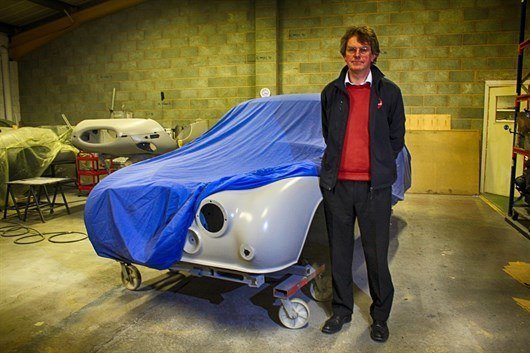 Nick Goldthorp alongside a very special project car being built for Jaguar Design Director, Ian Callum
From there, we're led into the body shop. It's a large and open area, which handles restoration and repairs for some pretty impressive machinery. Nick smiles and points to a Low Drag E-type that's taking shape in one corner. 'It's a replica of the Lindner-Nöcker E-type, which we're building especially for one of our customers. We scanned and digitised our original restoration, and this one will be all-but identical.'
It's a beautiful car in bare-shell form. But when Nick leads us round the corner to see the original Lindner-Nöcker car, we're stopped in our tracks momentarily. If you're not familiar with the story of this famous Low Drag Lightweight E-type, it's worth reading up on it - the car was one of only 12 lightweight E-types built by Jaguar in 1963 and 1964. It was returned to Browns Lane where, in preparing the car as Jaguar's unofficial entry for Le Mans that year, Malcolm Sayer designed a special low drag body. It also became the last Competition car prepared by the factory in Browns Lane, Coventry.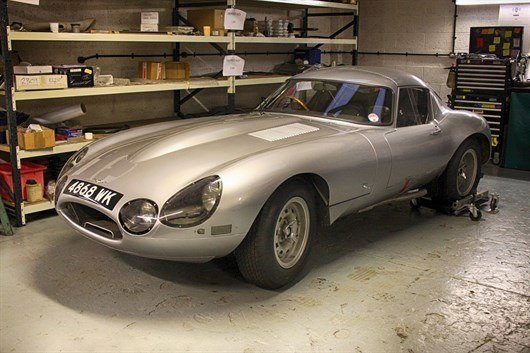 The Lindner-Nöcker E-type Low Drag Lightweight Coupe at rest in the workshop it was restored in.
However, the story of its restoration is even more amazing. Not just because it took 7000 hours - four years - of work, but because it's undoubtedly the most complex restorations to have taken place anywhere. When it crashed at Montlhery in 1964 the Lindner-Nöcker E-type was so badly damaged it was assumed that complete repair was impossible. But using period film and photos, the mangled 'shell was returned to its original shape, and then reunited with its special running gear. No wonder it won the 'Restoration of The Year' award at the 2011 International Historic Motoring Awards.
The other areas of the CMC premises - which are planned to grow further in 2014 - include a paint shop, interior trimming department and engine workshop. It's interesting to watch the guys in action on the cars - they use traditional methods when working on paint, body and interior, and Nick will confirm that many have been with him since the company's formation - and in some cases, before that.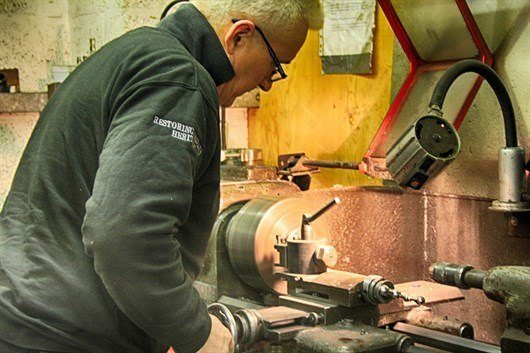 CMC uses traditional methods in its restorations.
CMC was founded in 1993, and Nick Goldthorp was one of the three people behind its formation. It wasn't an entirely new business, though, and Nick's involvement in the classic Jaguar goes back to 1980 - the time before we even called them 'classic Jaguars'. He founded Vicarage Motor Cars in 1982, and quickly helped establish the company as one of the foremost specialists of heritage Jaguars. By the late-1980s, and with the classic car boom now in full swing, Vicarage had established itself as the go-to place in the UK for anyone interested in buying, repairing or upgrading the-then darling of the scene, the Mk2 saloon.
Nick then sold his controlling interest in Vicarge during the late 1980s, later going on to help form Classic Motor Cars Ltd. From the very outset, CMC set-out to ensure that its work was done to the very highest standards, using only the very best parts and materials. Nick makes no bones about where his loyalties lie. 'Even today the Mk2 Saloon is still my favourite classic Jaguar'. And when we get talking about these saloons, you can see his happiness that they are moving back into fashion after spending a few years in the relative wilderness.
But that love and care is consistent across all of the company's projects. And as a consequence, CMC has built an solid reputation as pre-eminent Jaguar engineers, focusing its work on the 1950s XKs, and the 1960s and '70s E-types as well as the ever-present Mk2s. One bespoke project that's currently underway, and typical of what the company is capable of is Ian Callum's modified Mk2. We can't say too much about that, but a quick peek under the covers showed some exciting innovations. Another tailor-made Jaguar is the long(er)-wheelbase E-type roadster that the company built for an American customer (below).


Mildly stretched E-type roadster (with standard behind for comparison) is a good showcase of CMC's skills at building bespoke cars for customers with specific requirements.
CMC will work on any Jaguar, and has extensive experience in restoring and repairing examples from the early Austin Swallow, through to the SS100 and XJ-S. In fact, the company will do other cars, too. 'We're in the process of expanding our body shop, and will be able to work on any customer's car, all to the same high standard,' Nick says.
The business is doing very well indeed, too. Nick confirms that expansion plans are afoot, as well as a number of exciting new projects that will see the reach of the company grow even further. Despite the global economic crisis of 2008, and its lingering effects, CMC is in fine shape, with a bulging order book that's split 50/50 between UK and overseas customers. 'We work hard to maintain the highest standards on every job we do - and the flow of our restorations is a constant evolutionary process,' Nick says.
The workshop tour confirms that trade is indeed in terrific shape, and that quality is of the highest order. What was heartening, too, was that the guys working on the cars looked like they were genuinely enjoying what they were doing, and were extremely comfortable in their roles. All had chosen an area of specialism, and were able to really hone their skills in a process that has been ongoing for years. Servicing is vitally important, and CMC is backing this - not only ensuring that genuine high quality parts are always used, but educating owners as to why. 'We're keen to develop this further, by helping supply enthusiasts with the right parts,' Nick says.
It's difficult to convey the size, and sheer scale, of CMC's operation in Bridgnorth. But despite the huge footprint of the place, there's still a charming family atmosphere that sets CMC apart from many larger organisations. Nick's love for these cars is matched by the workforce, who really do take pride in their jobs. It's another huge British success story in the multi-billion pound classic car industry.
Comments
Author

Keith Adams
Latest