Curios: Vauxhall Sportshatch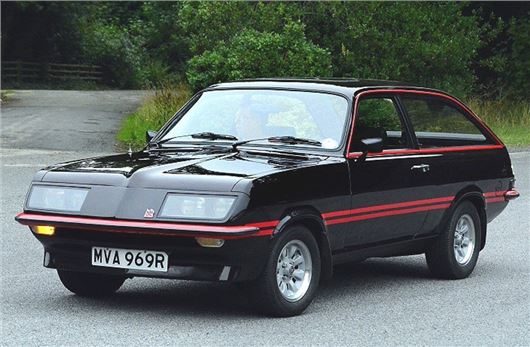 Published 27 March 2015
Any 'Droop Snoot' Vauxhall of the Seventies is a pretty special beast, but the example you see here – officially known as the Vauxhall Sportshatch – is one of the most fascinating of all. And with only 197 examples built in total, it's also one of the rarest.
The 1976-only Sportshatch was based around the Vauxhall Magnum Estate of the time, but fitted with the famous (and slippery looking) front end of the HP Firenza coupe. The HP was meant to be a new sporting flagship for Vauxhall, with anticipated sales of around 2000 a year. In the end, however, just over 200 were built in total, leaving Vauxhall with a large quantity of its 'Droop Snoot' nose cones left over.
What could the Luton firm do with them? The unlikely but intriguing answer was to fit them to a modified version of the Magnum Estate, which would then go by the name of Sportshatch. And while we take high-performance estates for granted these days, this was pretty revolutionary stuff for a Viva-sized model back in the 1970s.
The Sportshatch received only the single-carb version of Vauxhall's 2.3-litre four-cylinder engine, but it was still good for around 110bhp. And handling was vastly improved over the standard Magnum, as the Sportshatch came with the HP's uprated suspension.
Each Sportshatch was finished in dark maroon with contrasting red stripes and badging, as well as Avon alloys for a sporty appearance. The end result was dramatic, eye-catching and really rather handsome. It might have been based around an estate, but thanks to its rakish lines and fastback-like styling it was a genuinely sporty looking machine. In fact, the Sportshatch was almost a precursor to the hot hatch phenomenon.
Whatever you think of the Sporthatch, its scarcity alone makes it highly collectable amongst classic Vauxhall fans. It might not have been a huge commercial success but the Sporthatch remains one of Luton's most creative products of the 1970s.
Comments
Author

Keith Moody
Latest