Curios: Toyota WiLL Vi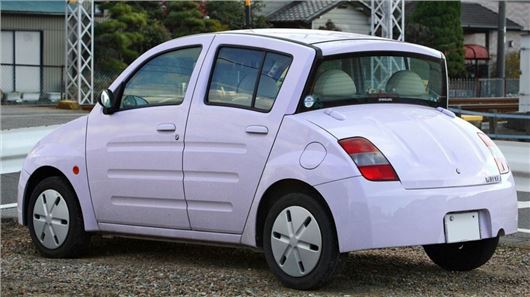 Ah, remember the reverse-rake rear window? This idiosyncratic styling feature appeared in the '60s on models like the Citroen Ami, the Ford Anglia 105E and the … erm … Reliant Regal, but by the end of the decade had fallen out of fashion. So it might surprise you to learn that Toyota reintroduced it on a Japanese-spec saloon at the start of the 21st century.
It was all part of a collaborative exercise between a collection of Japanese companies that included Toyota, Panasonic, Asahi Breweries and the Kinki Nippon Tourist Company. The idea was to launch a new brand of products and services aimed at trendy young go-getters, a range going by the name of WiLL. And from 1999 onwards this resulted in a plethora of launches, including the WiLL Desktop PC, WiLL Collapsible Bike and Will Sweet Brown Beer. Toyota's involvement, meanwhile, created what you see here: the WiLL Vi.
Under the skin there was nothing particularly revolutionary about the WiLL Vi, a car that shared its platform, running gear and 1.3-litre engine with the Toyota Yaris of the time. Where that first-generation Yaris was a perfectly pleasant looking supermini, however, the WiLL Vi was a bizarrely styled four-door saloon with – yes, you guessed it – a reverse-rake back window.
The overall look was intentionally retro (following on from successes of the '90s like the Nissan Figaro), yet by way of contradiction was quite unlike anything we'd seen before. Its flat plastic wheel trims, ribbed-look doors, steeply curved front and controversially different rear window design ensured it would always stand out on the crowded streets of Tokyo.
Sadly for Toyota (and the other companies involved in the WiLL brand), the Vi was not a popular buy, and it found itself being replaced by the more conventional looking WiLL VS hatchback at the end of 2001 – after less than two years in production.
Since then a number of WiLL Vi models have arrived in the UK as 'grey' imports, and now enjoy something of a niche following among fans of quirky motoring. If fancy joining them (seriously?), you'll find various Japanese-based WiLLs here, ready and waiting to be exported.
Comments
Author

Paul Guinness
Latest