Curios: Saabo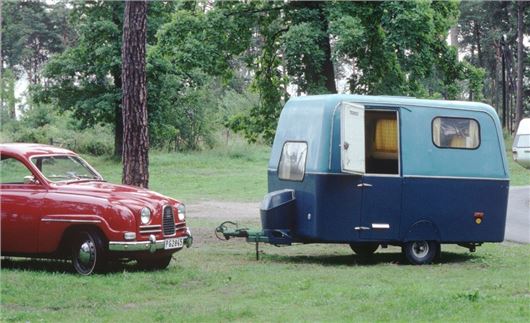 Published 30 January 2015
On today's classic car scene, the Swedish brand of Saab is a fondly remembered – but how many recall the company's short-lived foray into caravan manufacturing? It followed on from the launch of the Saab 96 in 1960, a car that was bigger and more powerful than its predecessors, yet still with a two-stroke engine. Surely this would never be capable of towing a caravan?
It would – and it was. Saab's plan was to use up excess capacity at its helicopter assembly plant near Norrkoping, leading to the idea of a lightweight caravan that could be towed by a car pushing out as little as 25bhp. With the new Saab 96 producing a relatively healthy 38bhp, it would be well up to the tow-car task. Swedish regulations also allowed ultra-lightweight caravans to be towed at any speed, which must have pleased potential buyers who craved holidays in a hurry.
The oddly-named Saabo caravan finally went on sale in 1964 and, despite its diminutive stature, was capable of sleeping a family of four – or even five if buyers ordered the optional extra bunk. Despite Saab's emphasis on weight-saving design, each Saabo also managed to feature a pair of sofas, a dining table, a sink, two wardrobes and even an LPG cooker as standard. 
The Saabo was simple to build too, comprising a pair of large glassfibre sections joined horizontally around the middle, with cardboard insulation to keep the Swedish winters at bay. Sadly, however, Saab's caravan manufacturing experiment was destined to fizzle out, as the company increasingly focused on its car production. That's why only around 440 Saabos had been built and sold by the time production ceased in 1968. 
Comments
Author

Paul Guinness
Latest