Curios: Railton Fairmile and Claremont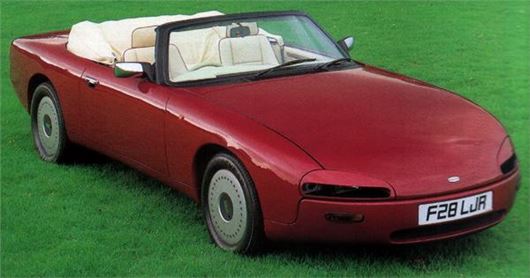 Published 02 May 2014
The Railton marque, first seen in Britain in the 1930s, was revived in 1989 with a pair of Towns-designed tourers based on the XJ-S convertible.
Whether they're an improvement over the original or not is open to debate. But we rather like them
---

The sleek profile of the Railton F29 Claremont. This car was spotted being driven into the car park at the Motor Heritage Centre at Gaydon on the day of the auction in June 2003.
The Railton Motor Company, based at Wixford in Warwickshire, was formed in 1989 with the aim of recapturing some of the glamour of the original Anglo-American coachbuilt Railtons, which had been absent from the market for almost 40 years. While similar in principle to the 1974 E-type-based Guyson E12, these latter-day Railtons were re-clothed in aluminium rather than glass fibre, in keeping with cars' upmarket ambitions.
Two models were offered: the F28 Fairmile (as seen at the top of this page) was the sportier of the two, with wider wheels and tyres, while the slightly more sedate F29 Claremont went with 1930s-style rear wheel spats. Essentially, though, both cars shared the same bodywork, with newly-fashioned front and rear wings and bumpers complementing the reskinned doors, bonnet and bootlid.
It is not known how many customers were found for these cars, but it would not have been many. Within five years, the company had folded, and plans for a barnstorming Lister-engined derivative were never realised.
Incidentally, the names Fairmile and Claremont were revivals of names previously seen on the drophead coupés of the original Railton Cars company in the 1930s. Indeed, Fairmile is also the name of the country estate in Cobham, Surrey that was the home of the marque's founder, Noel Macklin, and served as the company's base from 1933 until 1940. Continuing this theme, Claremont is the name of another estate in nearby Esher.

The original press photo for the Railton F28 Fairmile, showing that it started out with colour-co-ordinated wheels similar to those seen on the F29 Claremont. The headlamp fairings give a smoother – if somehow less distinctive – look than the open cowlings seen in the other photos on this page. The black hood cover would also later be swapped for a colour which matched the car's upholstery.
Comments
Author

Keith Adams
Latest
Compare classic car insurance quotes and buy online. A friendly service offering access to a range of policies and benefits.

Get a quote