Curios: Ford Supervan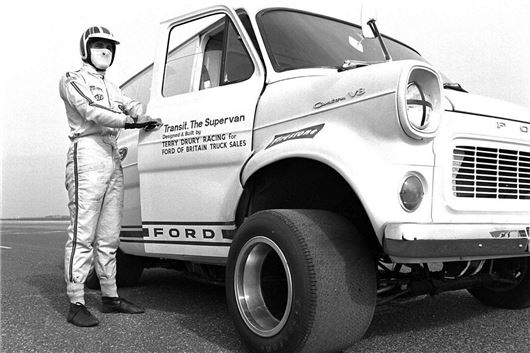 Published 09 January 2018
When it comes to selling itself, no-one does it better than Ford. Whether it was a campaign for the Capri ('The car you've always promised yourself') or clever product placement on TV with The Sweeney or The Professionals, Ford's marketing men had a knack for stealing the limelight.
But perhaps what we remember them most fondly for is just shoving a massive engine in something that really didn't deserve it. Like the time they put a 5.0-litre V8 in a Mk1 Transit. Lord only knows how these things come about, but we're pretty sure alcohol was involved.
Either way, the van guys at Boreham wanted to give Transit sales a bump and got in touch with Essex-based Terry Drury racing. In a nut, the plan was to shove as much of a GT40 as possible into a transit.
A tubular spaceframe was bolted in take most of a GT40's running gear. And the rear floor was cut to take the V8 and the unit was reworked to 4999c, which gave an estimated power output of 435bhp… in a Transit that weighed about 1.5 tons. With all that grunt, some serious work was needed to make sure it could get around bends and stop.
Upgraded brakes came from a CanAm race car while wider wheelarches meant 15in Firestone racing tyres could be fitted. The original transit seat was replaced with a Corbeau racing harness – to prevent the driver falling out, presumably.
On paper, it was good for a top speed on 196mph in fourth gear, although we're guessing that bodylift made it near impossible to get to that given the rather crude aerodynamics. But the real fun happened much sooner – it could hit 60mph from standstill in 7.0secs (the same as a Golf GTI) and clock a quarter-mile in 14.9 seconds.
A legend was born. It's first outing came at Brands Hatch in Easter, 1971 and Ford went on to make Supervan versions of the Mk2 and Mk5 Transit, the latter of which had a Cosworth engine fitted. 
Comments
Author

Keith Moody
Latest