Top 10: Things to see at the Silverstone Classic 2016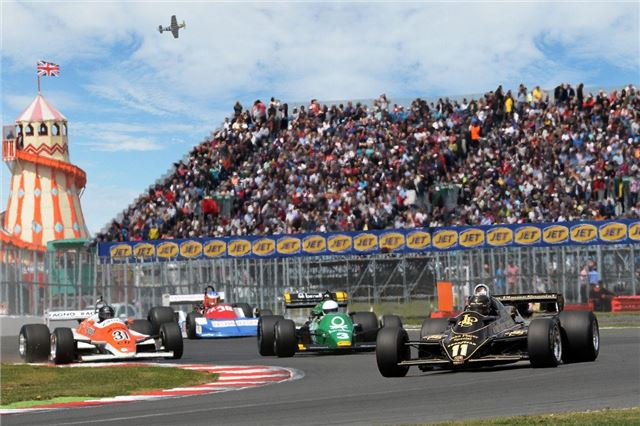 1


Forza Formula One

Silverstone is synonymous with Formula One – it hosted the very first round of the FIA F1 World Championship in 1950 and earlier this month witnessed reigning world champ Lewis Hamilton victorious once again on home soil. So it's no surprise this glorious F1 history plays a central role on all three days at the Silverstone Classic. Indeed, this year's line-up is the most comprehensive yet, ranging from Michael Gans' 1935 ERA R1B to a Caterham CT05/1 as raced by Marcus Ericsson as recently as 2014.
 
A superb grid of more than 50 priceless cars will line up for the pair of evocative races for the Maserati Trophy for HGPCA Pre '66 Grand Prix Cars on Saturday and Sunday afternoons. Cooper-Bristols, Aston Martin DBR4s, Maserati 250Fs and Richard Pilkington's evergreen 1937 Talbot Lago T24 SS will represent the front-engined era, while large numbers of BRMs, Coopers, Lotuses and Brabhams will be epitomising the dawn of the rear-engined era that followed in the early sixties.
 
Early afternoon races on Saturday and Sunday include the FIA Masters Historic Formula One Championship which put the spotlight on the 3-litre epoch dominated by Ford DFV powered machines created by British-based teams such as Arrows, March, McLaren, Shadow, Tyrrell and Williams. Once again the Classic will feature Europe's biggest grid of the year. The superb entry is topped Nick Padmore in his Williams FW07 and Loic Denman his ex Jean-Pierre Jarrier Tyrrell (010) – both winners earlier in the season. Look out, too, for Martin Stretton aboard a more modern Tyrrell 012.
 
There will be plenty of great variety on the grid, too, with Doug Mockett and Chris Drake bringing their Penske PC3s from America, Zak Brown debuting Jackie Stewart's GP winning March 701 from 1970 and Alex Furiani aboard the ex-Vittorio Brambilla Surtees TS20. A pair of ex-Laffite Ligiers are two more crowd-pleasers along with Rob Hall's Matra V12-powered JS/17 and Alain France's later Gérard Ducarouge designed JS11/15 from the ground effects era.
 
Bringing the F1 story almost up to date is the new high-speed demonstration for the amazing sights and sounds of the Legends of Modern Formula One. This will feature more recent F1 cars from V8, V10, V12 and turbocharged generations as raced between 1990 and 2006 by champions such as Damon Hill, Nelson Piquet, Michael Schumacher, Ayrton Senna and Jacques Villeneuve. Highlights here include Schumacher's 1992 Benetton, Alastair Davidson in Senna's 1984 Toleman TG184 and Zak Brown aboard the V10 propelled McLaren MP4-16A in which Mika Hakkinen won the 2001 British Grand Prix at Silverstone – a sight and sound no one will want to miss.
Comments