Top 10: Things to see at the Silverstone Classic 2016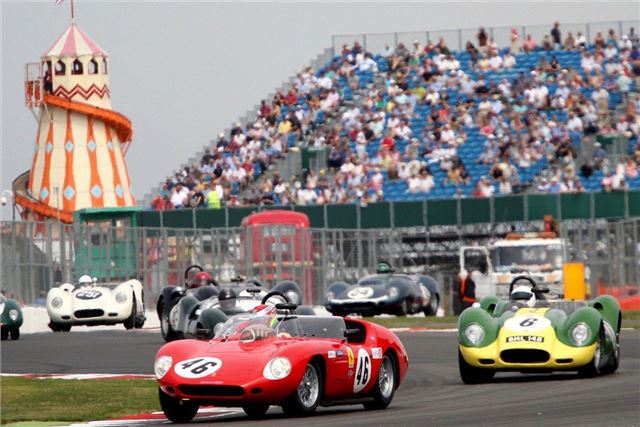 7


Head-turners galore

More than 50 years of epic GT and sports car racing history will also be rolling back the years during this month's Silverstone Classic. The Royal Automobile Club Woodcote Trophy For Pre '56 Sports Cars presented by Jaguar will see Jaguar D-types and Aston Martin DB3Ss to the fore.
 
Other head turners include Martin Hulsa's gorgeous Maserati 300S and David Cottingham's wonderful Ferrari 500 TRC. The Stirling Moss Trophy for Pre '61 Sportscars will star at least nine Lister Jaguars plus last year's winner: the stunning scarlet Ferrari 246S.
 
The Royal Automobile Club Tourist Trophy for Historic Cars features pre '63 GTs such as Aston Martin DB4 GTs and early E-types plus the epic Ferrari 250 SWB. The International Trophy for Classic GT Cars is for pre '66 GTs such as the AC Cobra, TVR Griffith and latter day E-types. FIA Masters Historic Sportscars is another with a full entry, this time filled with Lola T70s, Chevron B16s and Ford GT40s – all four of those spectacular showdowns are on Saturday.
 
The two races for Group C prototypes – notably at sunset on Saturday evening – are always among the highlights. This year's favourites include the Silk Cut Jaguar, Nissan R90 and several Porsche 962s plus the welcome return of a low-slung Peugeot 905 EV1B.
 
Completing the bill are the high-speed demonstrations for the 90s GT Legends – these include Chrysler Vipers, McLaren F1s, Porsche 911 GT1s plus the incredible Mercedes-Benz CLK GTR from 1997. Look out, too, for some exciting new additions – these include a pair of rare Jaguar XJR15s plus two of the V12-engined Ferrari 333 SPs, the sports prototype that marked Ferrari's official return to sportscar racing after a 20-year absence. The example driven by Sam Hancock has great history, too – it won both American endurance classics: the Daytona 24 Hours and 12 Hours of Sebring.
Comments