Audi 90CD and 90 quattro (1984 - 1987)
Last updated 18 December 2014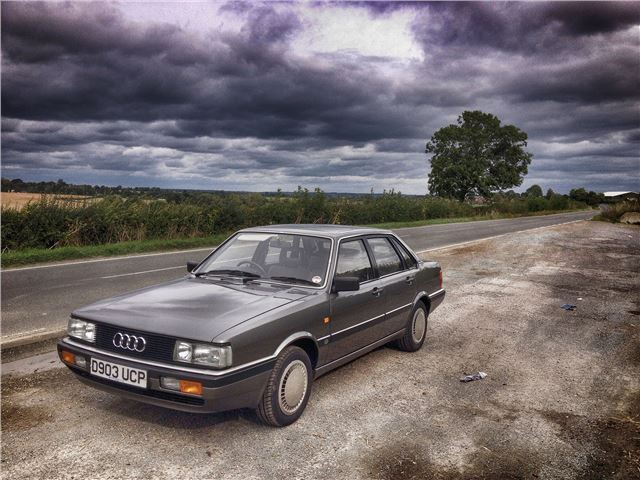 The Audi 90 was a new model created by Audi to do battle with the BMW 3-Series and Mercedes-Benz 190, combining the best bits of the 80 and 100 - the smaller car's body and larger model's five-cylinder engine.

It was an appealing addition to management car parks across Europe in the mid-1980s, and today, it's a fully paid-up member of the retro scene - and here's why.
---
Classic road test: Audi 90CD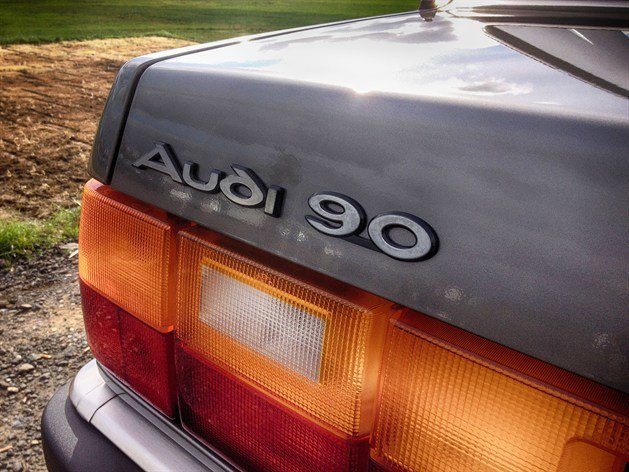 A new model name helped facilitate Audi's move upmarket in the mid-1980s.
Since its launch in 1972, the original Audi 80 built up a reputation for efficiency and solidity on the back of lightweight construction, and rugged engineering. It was a small saloon with little pretention for luxury, and in its homeland was a left-field alternative to the Opel Ascona or Ford Taunus. But the 80 punched above its weight - even when it was badge-enginered into the Volkswagen Passat.
In 1978, the 80 was thoroughly facelifted to become the B2. In effect, it was a new car, with a longer six-light body, neat ItalDesign styling, and with an upgunned engine range, which included the dropped the 1.3-litre entry-level model, pitching it slightly further upmarket. Audi was beginning to upsell its entry-level saloon - selling in markets such as the UK as a slightly upscale contender, often priced against cars with larger engines and more equipment.
In late-1981, the Audi 80 took another leap upmarket, becoming a compact executive car in the process. It received the 1921cc five-cylinder engine from its sister car, the Audi Coupe, becoming the 80CD in the process. That move upmarket continued in '83, when the 2144cc five-cylinder from the 100 was installed, and allied with four-wheel drive, to become the 80 quattro. It was on the back of the quattro revolution, and thanks to the unmistakable five-pot, that Audi's brand values really began to shift upwards during the early-'80s.
With the five-cylinder 80s now established as compact and desirable cars in their own right, it was a logical next step for Audi to further differentiate them from the more bread-and-butter 80s. After six years in production, and surprisingly late in its life cycle, the B2 received its first major facelift. It gained smoother front-end styling, a revitalised interior, a bigger boot, and more efficient engines. Most importantly, the range was split in two - the four-cylinder cars remained 80s, but the five-pots were now called 90s. The 90 echoed the pre-facelift five-cylinder 80 in being offered in front- and four-wheel drive form - and as before, these models were known as the CD and quattro.
About the Audi 90CD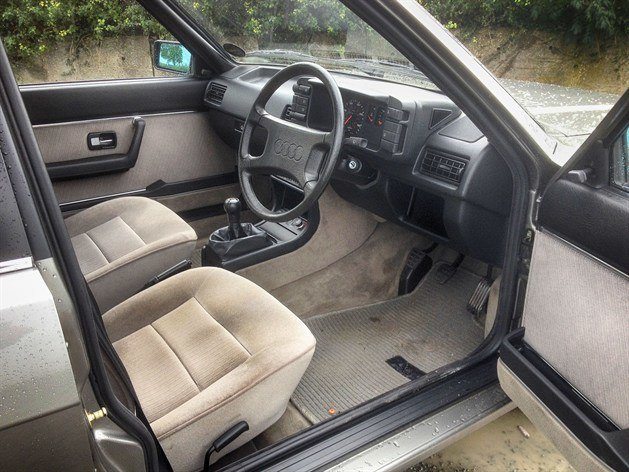 Interior is well-made and might higher in quality than the pre-facelift 80 it replaced. Velour trim is hard wearing and comfortable, dash design is pleasant, and visibility is excellent.
The 1984 Audi 90 was an interesting car. Although there were no major surprises in its mechanical layout, and it retained a very familiar look, it really did feel like a step up from the previous model. The quattro's uprated five-cylinder engine was enlarged to 2226cc and in order to improve smoothness, it received a new crankshaft damper at the bottom end, and hydraulic tappets at the top. Maximum power remained the same at 136bhp, but smoothness, low-rev response and tractability were all massively improved.
The Audi 90CD received much the same package of improvements to improve smoothness - the outgoing 1921cc carburetted engine from the original CD had already been enlarged to 1994cc when it gained fuel injection in '83, so when the 90CD was launched it retained the same engine capacity as well as more modest 115bhp maximum power output. Kerb weight remained on the light side, at 1100kg, so the power-to-weight ratio, even in the less-than-sporting entry-level 90 was more than adequate enough to stay with the more overtly sporting rivals.
Otherwise the 90 remained fundamentally unchanged - in-line five-cylinder engine, forward of the axle line, allied with a five-speed gearbox, and driving the front wheels. MacPherson Strut suspension at the front, with a beam axle at the rear was as before.
The other main differences between the new 90 and the facelifted 80 were cosmetic ones. So, it gained the Coupe's wider headlamps and colour-coded, integrated front and rear bumpers, and inside it also featured the two door car's dashboard surround. At the rear, the 90 was easily spotted by its full-width lighting panel, echoing what had already been done to separate the 100 and 200 ranges. Finally, the Coupe's side-skirts were also fitted - with the overall effect being that the 90 looked a far more substantial and prestigious car than the 80.
On the road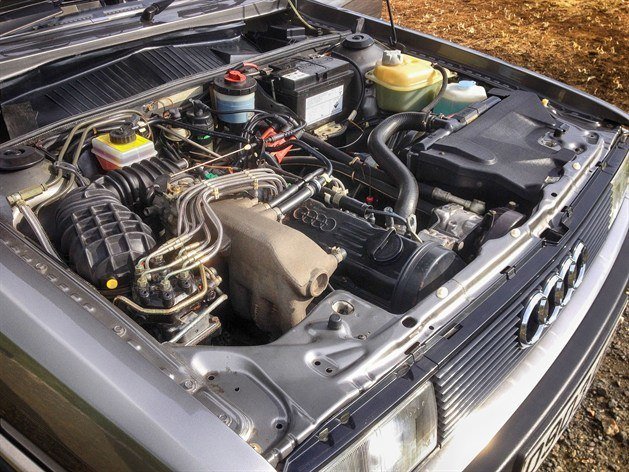 As can clearly be seen from this image, the in-line five-cylinder engine overhangs the front axle line by some margin. That should lead to nose-heavy handling, but it's nowhere near as bad as you might expect.
First thing's first, our 1986 Audi 90CD test car is an exceptional example of the breed. It belongs to Audi UK and with a smidgeon over 8000 miles on the clock, it's effectively a new car. It's certainly an interesting, if rather low-key, car to look at - because although it features neat exterior detailing, such as those integrated bumpers, aero wheeltrims and rubbing strips, there's no disguising its square-rigged styling that's so obviously rooted in the late-1970s. Given this arrived on the market two years after the groundbreaking Audi 100 C3, it was a little disappointing.
However, compared with the rest of the class of '84, it was visually on the pace, up there with the BMW 3-Series, but comprehensively left behind by the Mercedes-Benz 190E.
For those who love the off-beat thrum of a five-cylinder engine, the 90CD is a little bit too quiet. But when you do hear it - it does predictably sound wonderful
Inside, the workmanlike first impressions are continued. The simple dash structure, with the instrument pod, flanked by major controls, combined with the centre console mounted switches for the electric windows make this a very simple car for the newcomer to feel comfortable in. The instruments themselves are an object lesson in clarity, while all the switchgear feels solid and is nice to use. Also, the new dashboard itself is solid, and feels nice to the touch, thanks to a grained texture - and it's a million miles away from the pre-facelift car, which although visually similar, was much lower rent.
The driving position is okay, with the seats agreeably firm and supportive, although taller drivers won't have enough rear seat travel. The steering wheel is chunky, but disappointingly not trimmed in leather, as well as being rather weirdly offset to the left. After a few minutes, you won't even notice. All round visibility is excellent.
Firing up the five-pot is as you'd expect - there's an off-beat, slightly lumpy idle, and throttle response is far from snappy. But once underway, it soon becomes clear that this car has been car has been optimised to relax the driver. Engine, transmission and wind noise are excellently insulated, while the steering and gearchange are both well weighted but slightly devoid of feel, meaning that the driver is always cushioned from what's going on out there. So, for those who love the off-beat thrum of a five-cylinder engine, the 90CD is a little bit too quiet. But when you do hear it - it does predictably sound wonderful.
What can't be argued with is that it pulls supremely well from low-revs, and as much as you'd enjoy thrashing it cleanly to its red line for the enjoyment of hearing it work for a living, it's also an elastic power unit that's happy trickling around at low revs, minding its own business. In short, it feels very much the large-engined junior executive, much more sophisticated than your average four-pot, and far more interesting than rival sixes.
It's okay in corners, and never feels as nose-heavy as you might expect. Yes, there's plenty of body roll, and lots of pitching and squatting under braking and acceleration, but the excellent power steering set-up is responsive - if a little lacking in feel - and the car changes direction neatly and without fuss. The steering never entirely masks the car's understeery nature, though, but most of the time, on the road, and in the real world, the Audi feels dutiful, if a little unexciting.
At speed and on the motorway, the 90 feels well-planted and stable. There's some wind noise, but at 70mph and 3200rpm, it's a quiet, restful, place, and the engine never feels busy. The steering seems to improve at speed, too, and you'll like the level of response and feedback it gives you at high speeds. The brake pedal feels a little dead, but there's plenty of power. Switchable ABS was an option on the 90CD and standard on the quattro - this car wasn't fitted with it, and it wasn't missed.
The HJClassics Verdict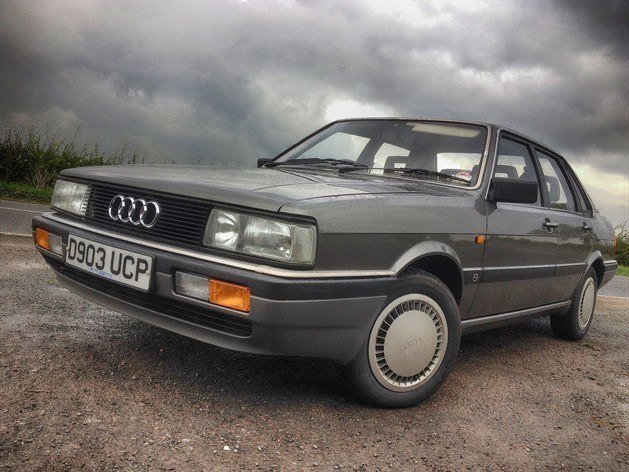 The 90CD is let down a little by its plastic wheeltrims. Ronal R8 alloys were optional when new on this model - you needed to stump up for a 90 quattro to get them included in the list price.
The Audi 90CD comes from an era when its maker's products were off-beat, and the people who bought them did so because they were seen as a bit different, a bit more intelligent. Take this car - although it was very much a '70s design, it still fit in perfectly well with the needs of its increasingly upwardly mobile clientele. Today, there's a great deal to like about the Audi 90 - it's pleasingly compact, looks neat, tidy and retro, doesn't consume vast amounts of petrol, and is really nice to drive in a relaxed kind of way.
The Audi 90CD comes from an era when its maker's products were off-beat, and the people who bought them did so because they were seen as a bit different, a bit more intelligent
It shouldn't let you down either, if well maintained, and you change the oil regularly. And having learned lessons in solidity from the earlier pre-facelift Audi 80, these cars will quite happily cover mega mileages without undue stress - we know, we've driven a Coupe across Europe with a quarter of a million miles on it, and didn't encounter a single hitch.
Yes, it does have its problems, though, and much of that is not the car's fault. Parts are becoming increasingly scarce, and although running one is easy enough thanks to readily available service items, repairing one will be far tougher. And if you break anything inside it, good luck finding any new pieces of trim. High parts costs back in the day when these were mere secondhand cars saw many off to the scrapyard (or more accurately, off to Eastern Europe for a second life) - and today, that's led to the tragic scarcity we're experiencing today.
The 90 quattro is the one to have if you want a compact five-cylinder sporting saloon. With lower, stiffer suspension, and some subtle, but appealing body add-ons, it more readily looks the part. Thanks to tidy, neutral handling, and an extra 21bhp, it also drives in a far more sporting manner, too. But for a more relaxing and sybaritic experience, the 90CD is the perfect solution, which we can't recommend highly enough. Of course, finding one will be a huge challenge, but the pay-off is that you'll end up with a car that really does get under your skin very comprehensively indeed.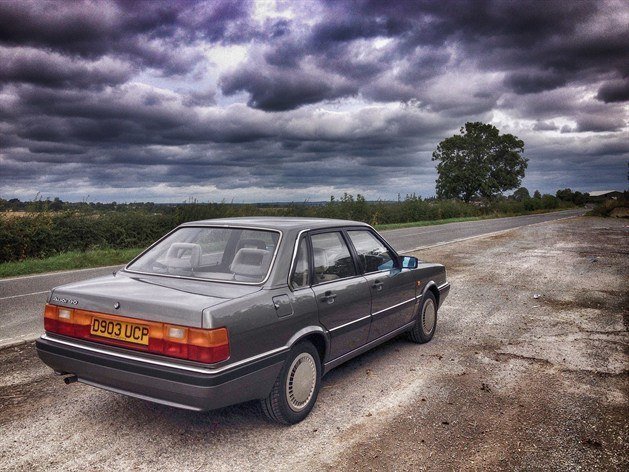 Back: Introduction
Next: Buying Guide
Compare classic car insurance quotes and buy online. A friendly service offering access to a range of policies and benefits.

Get a quote