Audi 80CD and 80 quattro (1981 - 1986)
Last updated 18 December 2014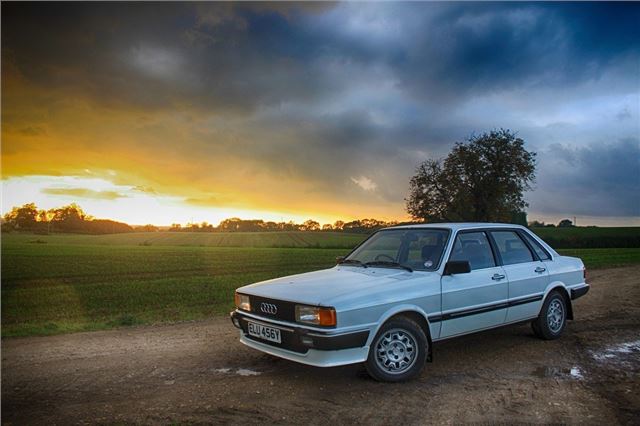 The Audi 80 established itself as an efficient, reliable medium sized saloon, and following its move into the second generation in 1978, it grew into a more prestigious product. It relied on lightness and efficiency to make up for its engine capacity deficit compared with its similarly priced rivals.

And in 1981, Audi slotted in its charismatic five-cylinder engine from the recently-launched Coupe under the bonnet to address the situation. And with its new performance saloon, it went baiting BMW, Saab and Alfa Romeo...
---
Classic road test: Audi 80CD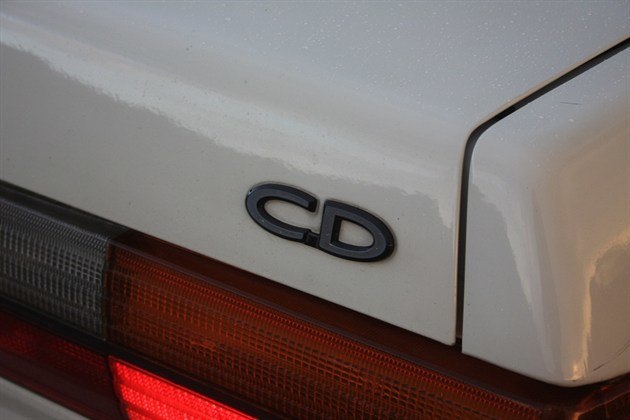 CD meant more power, luxury and interest for the Audi 80 range..
The Audi 80 proved to be a sizeable hit for its maker since it launch in 1972. The sharp-looking first generation model sold 1.1 million, which for a company that had only been relaunched by parent company Volkswagen out of DKW and NSU in 1965, was quite an achievement. The success was deserved, and welcome, and from the ashes of DKW and NSU, this fine car set the tone for Audi's future compact saloon. In 1978, when the second generation B2-Series 80 was launched, few failed to notice that it was larger and more grandiose looking than its tidy predecessor - and it was also all-but identical looking to its executive challenger, the Audi 100.
The 1978 Audi 80 was styled by Ital Design, and looked more like a BMW 3-Series rival than Cortina challenger. In the UK, it was also priced that way - when it went on sale in 1979, the 85bhp 80GLS competed very effectively indeed with the 2.0-litre executive opposition. That competitiveness was bolstered by the arrival of the 110bhp fuel-injected 80GLE in the closing days of 1979, a quick and desirable performance saloon, with an added dash of glamour thanks to a starring role in touring cars, with Sir Stirling Moss at the wheel. But as agreeable as it was, the 80GLE lacked that last element of polish that marked out the rival BMW 320.
In late-1981, Audi announced the car that it hoped would address that situation. The 80CD benefited from the fitment of the 1921cc five-cylinder engine, which had recently debuted in the Audi Coupe - and was effectively a short stroke carburetted version of the 2144cc power unit, used with so much success in the 100, 200 and quattro.
About the Audi 80CD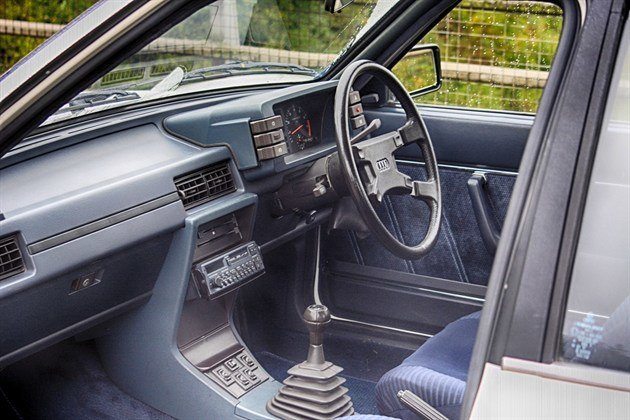 The dashboard was little changed over the standard 80GLS/GLE, but the steering wheel, shared with the quattro and Coupe was new to Audi's smallest saloon. Slightly messy stereo installation detracts from the minimalist looking interior.

The five-cylinder Audi 80CD is effectively a re-engined version of the more modest four-cylinder car, conceived very much with the same set of goals as the V6-engined Ford Cortina 2.3 Ghia - to add some glamour at the top of the range, and maybe steal a few sales from the more established grandees. That means in technical terms, the CD is a pretty familiar technical package for those familar with the Audi line-up. The 80CD delivers 115bhp, and claimed performance figures for the 1100kg CD were pleasingly rapid, with a claimed 0-60mph rime of 9.0 seconds, and a maximum speed of approaching 120mph.
The engine is mounted longituduinally, driving the front wheels, through a five-speed gearbox that the Volkswagen-Audi Group christened the 4+E. Although the fifth-gear ratio that resulted in 22mph/1000rpm doesn't seem that long-striding today, back in the early 1980s, and at a time the Germans loved sprint gearing for their Autobahn-stormers, this was a step in the right direction, fully justifying the 'Economy' tag. Thanks to its relatively low kerbweight, and that gearing, it also delivered some excellent official fuel consumption figures. And this mattered in 1981 - the depths of a particularly stinging recession.
The suspension set-up remained fundamentally similar to the rest of the 80 range, so that means MacPherson struts up-front, and a 'dead' beam axle at the rear, which was also set-up to twist, and is located by a pair of trailing arms. It's a set-up that you'll see used in many cars to this day. Braking is a standard disc/drum set-up, while the steering is powered assisted for 3.5 turns from lock-to-lock, making it a far more effortless drive than more humble 80s. When new, the 80CD failed blaze a trail in comparative group tests, with road testers citing its lack of refinement as a major flaw against its rivals from BMW and Saab - but does that remain the case on today's roads, as a classic car?
On the road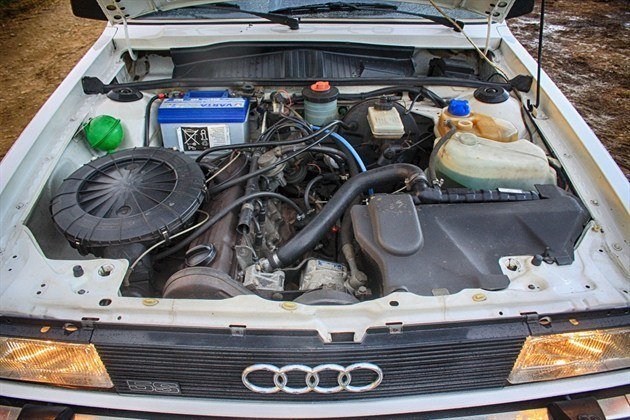 Inline five-cylinder engine is a tight fit, mounted forward of the front axle-line, and canted over. Accessibility is good once the air filter housing is off.

Our example takes pride of place in Audi UK's heritage fleet, and as such it's beautifully maintained, with less than 20,000 miles showing on the odometer. So, clearly this is a very special car, and probably more representative of how they drove new, rather than how your typical survivor would today. But knowing how few of these cars are left, and how well they are now cared-for by their owners, it's probably not unique, even if the exceptionally low mileage is.
In late 1982, when this car was bought new, it cost £8267. That placed it in the company of some quite exhalted machinery - for example, the Saab 900GLi cost £8495, the Alfa Romeo Giulietta was £8000, the BMW 323i was £8635, and if you were feeling particularly sporty, you could pick up a Ford Capri 2.8 Injection for £8195. So, the CD was in the heart of the compact executive car market - a sector now defined by its distant descendent, the Audi A4.
One thing is for sure today, the Audi 80's neat styling has been certainly improved by the package of exterior upgrades to transform it into the CD. The alloys wheels look interesting, the spoiler adds overtaking lane appeal, and the additional use of satin black paint for the window frames tidies things up appreciably. In short, it's a neat looking Italian styled saloon with just the right amount of embellishment. Equipment levels were high for the day - included were all-round electric windows, central locking, sunroof and headlamp washers. And today, it really stands out.
Familiarity over time leads the driver to appreciate its offbeat five-pot beat, which is nothing if not charismatic - but to get the best, you'll need to push it quite hard
The interior looks better than it feels, though. The velour trim and splashes of chrome set this one apart from other 80s, but your first impressions might be tainted by the brittle plastic used for the dashboard and centre console, as well as the cheap and sticky switchgear sited around the box-like instrument cluster. Considering that Audi has since become synonymous with high quality interiors, this is disappointing - and yet, at the same time, for those who appreciate clean-looking design and functionality over and above luxury, this one's for you.
Driving position is acceptable once you get used to a steering wheel offset towards the centre of the car. The low-mounted seats are firm and supportive, but long-legged drivers will be wishing for a little more rear seat travel. The thin-rimmed leather-bound steering wheel lifted straight out of the quattro is a joy to hold, and the sparsely minimalist instrument cluster - which lacks a coolant temperature gauge in favour of an Economy one - is an object lesson in clarity.
For those used to five-cylinder Audis, the 80CD won't offer up any surprises. This one's been retro-fitted with a manual choke conversion, but starting it from cold is pain free, with the five-pot settling down to a grumpy idle. With more temperature, that quietens down, but you'll never lose the valvetrain noise. Warmed through, and pulling away, the easy and flat power delivery of the larger five-pots isn't completely there - it feels quite flaccid at low revs, only really pulling strongly from about 3000rpm.
So, to get the best from it, you'll need to push quite hard, using liberal amounts of throttle in the process. Performance is more than ample enough to keep up with the flow, and it feels much a performance saloon in the way it accelerates. Problem is, the nice warble you get in the mid-range when not working it so hard is replaced is lost, where it actually gets quite harsh. Having said that, familiarity over time leads the driver to appreciate its offbeat five-pot beat, which is nothing if not charismatic, even if it's not as smooth a six. And we like it.
The Audi's handling is good - once you've dialled-in to it. The power steering is a little on the light side and too slow for enthusiastic drivers, but the handling and overall levels of grip are excellent, even if there's more body roll in corners than you might be expecting. That softness also extends to the ride, which handles most conditions UK roads throw at it without too many complaints - surprising given this car's sporting remit. But again, it's tidy, faithful and never wallows - which means you can drive quickly and safely in almost all conditions.
It's best on the motorway, cruising at the legal limit, engine turning over at a little more than 3200rpm. It feels long legged and comfortable, and is refined, airy and comfortable. Despite what looks like brick-like aerodynamics, wind noise is kept well in check, thanks to excellent door sealing, and because of its large 70 litre (14.5 gallon) fuel tank, it will travel like that all day - something you can't necessarily take for granted with some of its contemporaries. Brakes are strong with good stopping power, and oodles of feedback through the pedal, surprisingly.
The HJClassics Verdict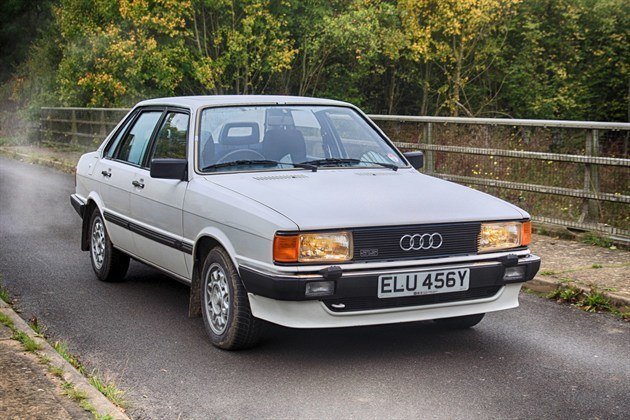 The 80CD is an interesting and understated looking saloon. Integral front foglights, Ronal alloy wheels, and front spoiler give it a sporting look that's largely matched by the driving experience.

For a car that was criticised when new for being a bit cold and clinical, the Audi 80CD emerges as an interesting, capable and very usable classic car. The satisfaction that comes from driving and owning one of these compact five-pots transcends its abilities on the road - and we should know, as we've run several of these the cars, over extended periods, enjoying pretty much every mile behind the wheel. And there's no reason to think that you won't come to the same conclusion.
As long as you find a good one that's been maintained properly, while being fed a regular diet of high quality lubricants, it should be faithful for years to come
In its favour as a classic car are its tight build quality and solidity, despite the lightweight feel of its interior. That means as long as you find a good one that's been maintained properly, while being fed a regular diet of high quality lubricants, it should be faithful for years to come. As we would say in any classic Audi review, be mindful of the fact that parts availability is not good, and because the cars are now so rare, finding donor vehicles is also a near impossibility - so don't bend it, or break anything inside.
So, not a car to tug the emotional heartstrings perhaps, but one that worms its way into your affections, earning respect from its owner in the process. Those who get these cars can't get enough of them, while the rest just don't understand the fuss. But there's much to recommend a five-cylinder 80, however, sounds unmistakable, goes hard, doesn't use too much fuel, looks good, and is tidy to drive. What's stopping you taking the plunge? Oh yes, the small matter of finding one...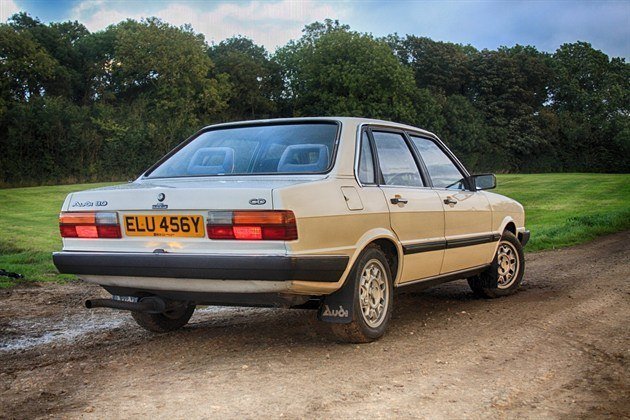 Back: Introduction
Next: Buying Guide
Compare classic car insurance quotes and buy online. A friendly service offering access to a range of policies and benefits.

Get a quote