Volkswagen New Beetle (1998 - 2011)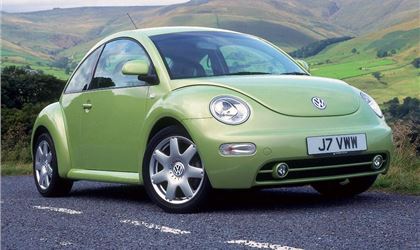 Cabriolet 1.6
reviewed by hendomem on 5 April 2012
3
Cost of maintenance and repairs
2
Experience at the garage or specialist
3
How you rate the manufacturer
Comfortable, stylish and refined with a solid feel but too many inexcusable issues
We have has the car just over a year & a half and done 17,000 miles in this time. Whilst the engine has never failed we have had the following problems:

coolant temperature sensor failing
reverse light sensor failing
both front airbag crash sensors failing
an oily smell coming from the engine when hot
heated seats only work on position 5

To me on a car with approx 45k miles these issues are simply inexcusable. I am used to Japanese reliability of Mazda & Honda and you don't get it with the Beetle.

On the plus side the car has an air of solidness feeling so safe and you have an impression of being well away from the outside world. It's quiet, fairly economical, can be fun to chuck around corners and looks great. The interior is actually far better quality than the 2012 model. Ours also has cruise control, leather, heated seats, 17" aw so a lot of nice goodies.
Write your review
Just reviewed...