Volkswagen Golf Mk3 (1992 - 1997)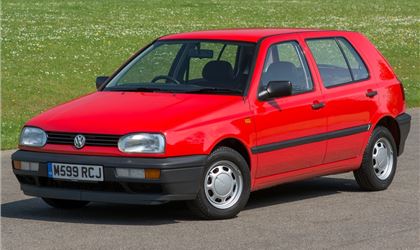 GL TDi
reviewed by Anonymous on 25 November 2013
3
Cost of maintenance and repairs
4
How you rate the manufacturer
Solid, sturdy, smooth
Bought with 104k on the clock and fsh. Owned for a few months now and pretty happy with it. Golfs have a nice timeless aesthetic to them, so despite it being 15 years old, it doesn't feel like a banger. This is probably due to my one having been pretty nicely looked after by it's previous owners; I'm certain it'll carry on for a good many years yet - at 107k it only just feels 'run in'.

The downside to owning a car of this vintage is niggly electrical problems which seem to be quite common/inevitable; the rear electric windows don't work and I recently had to spend £70 getting the central locking fixed. There's also a few minor rust bubbles here and there, which I was well aware of when I bought it but could see it was nothing major.

I like the neat alloys on it, and also mine has a super useful original roof rack/bars - it's a good looking, rugged sort of motor. The 1.9 tdi is a pretty nifty engine that pulls very rewardingly through the gears, and although you're unlikely to be the first away from the lights, by the time you shift into 3rd there's a nice surge of power that pushes you back into your seat. Motorway cruising is very pleasant. One other criticism is the power steering which is surprisingly heavy - my dad's 2002 Citroen Berlingo feels almost feather-light by comparison.

But all in all, a good, solid little car.
reviewed by mrspivvy on 4 October 2012
Write your review
Just reviewed...