MG MGB (1962 - 1980)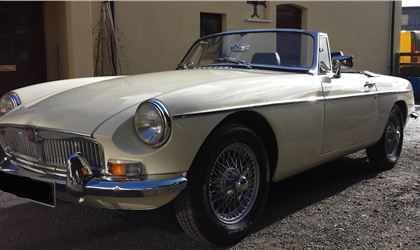 MGB Roadster
reviewed by Cool Cucumber on 14 July 2015
4
Cost of maintenance and repairs
5
Experience at the garage or specialist
5
How you rate the manufacturer
Surprisingly tremedous fun
This was my first venture into Classic Car ownership to complement my 5 car garage of sports, utility and workhorse vehicles. I selected the MGB simply because it ticked all the ease of ownership boxes of being relatively cheap to purchase and with an amazing network of spares suppliers easy to maintain and run.

As a warning to potential buyers, if you are 6'2" or above don't bother. The head room would be restrictive and if looking at a roadster, you'd be eye lining the top of the screen. Other than the height thing, the cabin is very spacious with as much as you need leg room and plenty of arm room so you don't need to get intimate with a passenger. The seats have a good range of forward and back movement and the reclining backrest should ensure a good seating position for everyone. The seats are comfortable although you notice the lack of lumber support in tight corners relative to modern car seats. The steering column is adjustable too for height with an adjustable (with a spanner) bracket.

The car I purchased(via eBay) wasn't exactly as described so I'd recommend viewing if at all possible before purchasing. It is an early series 2, January 1970 registered roadster painted in Old English White which really suits the car. The original colour was blue and it also had a spell in tartan red before gaining its white livery in 2006. The series 2 had several mechanical improvements over the Series 1 with a full synchromesh gearbox and a five, rather than three, bearing engine which does make it a more durable and better driver. The early series 1 pull handle models do tend to be the most desirable collector cars with the early Series 2 running close behind.

The main thing with any MGB to check is rust. On the sills, on the floor and in the spring hanger areas. Everything can be sorted up to and including a new body shell but at a cost so a sound body is essential to an investible MGB.

The engine is a fairly low (by modern standards) power 1.8l B series engine which when driving enthusiastically is more a case of going louder rather than going faster. It can be pushed hard to keep up with modern hatches but you won't be held up by many cars on the road. The gearbox is a really nice unit, short and precise shifts add to the whole driving experience. So although its not remotely fast, on back A and B roads you can have a great time and with the roadster hood down take in any views along the way.

The engine is a very easy unit to work on with good access all around. Upgrading the distributor to electronic ignition is a good idea as the angled distributor does make points adjustment a bit of a chore. Also its worthwhile upgrading old style canister oil filters with paper internal filters to the later spin on housing and filters. It makes oil changes a lot simpler, easier and cleaner. My car has a head conversion to run safely on unleaded fuel. The engine does run very badly on standard unleaded with stuttering and spluttering that timing adjustment couldn't sort so I'd recommend only using the higher octane rated premium unleaded in MGB's.

All parts for an MGB are easily obtained through a raft of owners club shops or small independent dealers who can get you the parts within two days. I've used 6 different suppliers and all have provided a good service bar one famous owners club outlet that short shipped an order but never refunded the difference or shipped the back order item.

The things to look out for when buying a MGB beyond rust are the heater, if that doesn't work its an expensive fix as the heater box is a big job, as in difficult restricted access, to extract. It didn't work on my car even though I was promised it did by the eBay seller and it cost almost £700 (including garage labour) to change everything heater related. If car has wire wheels and if they knock then the splines are likely worn requiring usually a new set of wheels and or hubs with a set costing around £700. If the car steering vibrates at speed that can be a sign that the wire wheels are no longer running true which could entail £500 for a new set of wheels. The chrome work does pit with time, bumpers are around £150 each, bezels around £20 each and handles around £40 each. All gauges should work, recycled gauges are generally available through auction sites for around £50 each. The only part on a MGB that I have come across that cannot be purchased new and rarely comes up for sale are early style heater controllers. So, its worth having a spare set of these just in case.

On a safety point, the original MGB jack is regarded as dangerous and it is recommended owners grab themselves a good scissor jack with the old aluminium Mazda RX7 one being a particular favourite due to its compact and light weight design.
Write your review
About this car
| | |
| --- | --- |
| Top speed | 103–105 mph |
| 0-60 | 12.2–13.0 s |
| Power | 82–97 bhp |
Just reviewed...