Citroen XM (1989 - 2000)
reviewed by lowflyingpilot on 4 June 2015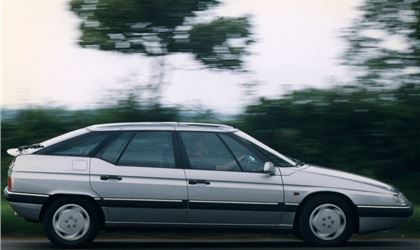 V6 24 valve - series 2
reviewed by lowflyingpilot on 27 April 2015
5
Cost of maintenance and repairs
5
How you rate the manufacturer
Fast, handling amazing, comfortable and space and reliable; large.
Fantastic.

The Citroen XM was chosen as my 'powerful' car. The clever Citroen hydropneumatic adaptive suspension, coupled with putting it on Wolfrace wheels on Avon ZZ3 215 tyres, produces a car that one simply can not seem to shake and break the traction of. At the very limit it just seems to "bobble" but hold. This is a series two Citroen XM, made within the last year of production, (in fact within the last few months), made in Rennes, France.

These tyres incidentally are brilliant for grip in the snow. I also have to drive down a beach from time to time (soft sand to shingle), and these tyres take this large car over it. These tyres , on this car, actual produce respectable off road performance. The completely smooth automatic gearbox really helps also in this respect.

The automatic gearbox (on these later V6 models), in sports mode changes up and down exactly it seems when one would want to change in a manual car. The first automatic car ,that I discovered, that I felt can do this. Curiously the other car that I feel that does, that I have come across, is the Fiat Panda (type 2, year 2007) semi-automatic , in the 1.2 litre petrol engine.

It is without doubt the most comfortable car that I have ever driven. The seat architecture is just right for long distances on these high end models. You feel as fresh after a long journey, as if its a local journey.

The climate control and electrically heated seats are a useful addition. Although I prefer to have natural ventilation. I only ever have used the heated seats in the really cold sub zero weather.

The balance and poise of this model of Citroen XM means you are often travelling far faster than people think. I often used to say to my passengers "How fast do you think we are going?". When I got a reply I asked them to glance across and look at the speedometer. We were nearly always going two to three (and sometimes four) times faster than they thought.

I used to have a boat, and all the gear would go in the large boot.

Economy:- (engine size 2946cc)

On a run of a combination of all road types (from the south coast to the Midlands and back on twisty roads, A roads and a bit of high speed dual carriageway), the car returns 27.6mpg to 28.2 mpg.

On shorter journeys it averages around 22-25 mpg.
If on very short town journeys or country lanes, in cold weather expect around 18mpg.Maybe even 16mpg if you like to use your power.

It has *never* broken down or left me stranded.

These are all of the faults that I have experienced in 8 years of use. (The car is 16 years old now)

(1) A hairline crack in a hydraulic 4 way union, that allowed some LHM fluid to drip out. The car was 12 years old then. (easy fix as it is on bottom of the engine bay and access is easy)

(2) A rubber hose (the smaller one) for the engine cooling water developed a pin prick hole/split. Resulting in a cloud of steam (only at high engine temperatures). Again easy replacement

(3) Right hand handbrake cable snapped when the car was 14 years old.

(4) Two of the cars electric window regulators needed replacing.

(5) A rubber low pressure hydraulic return pipe needed changing (as a few drips of hydraulic fluid could be seen emerging when the cars suspension was raised/then lowered).

(6) The rear number plate light needed replacing when the car was 10 years old. It failed the MOT on that alone.

(7) The climate control (blower fans) have stopped about four times in eight years. This is due to the fuse not quite being able to cope with the current load, and it partially melts. Simple to fix, just put a new fuse in. I always carry a few spare.

(8) The car is now 16 years old, and the dot-matrix displays telling you the outside temperature, mpg, cd track number etc, have partially faded. A know problem when the cars get old. But you don't need them.

(9) One of the earthing bloc needs a tap about once or twice a year when it does not start. Many people think it is just the relays (which indeed they sometimes can be); but infact it is mostly the earthing bloc on the series two (or mine at least). On my series 1 Citroen XM I had prior to this; it was indeed the relays (or so I thought). But looking back upon what I know now, it may have been both the relays and earthing bloc sometimes.


(10) In October 2014 welded two little patches (one on each side around three to four inches long) at the rear of the sills. In this area only (on the whole of the car) they just started to go.

(11) I have replaced the spheres, as some of the nitrogen gas escaped over time. But this is a standard service thing to do every few years (not a breakage), and really is equivalent to changing an oil filter, one at each wheel.

Apart from standard service items (oil, LHM, brake pads etc) that is everything the car has needed from 2007-2015. I would say that has to be considered reliable.

I may upload a photograph of it sometime. It is 16 years old now and looks virtually like it is brand new.

The last of the "real" Citroens.


Upsides
; Speed, Power, Handling, Comfort, Size (and curiously off road ability for a large car). My Citroen XM is 16 years old and *every* component and electrical component works on it; from heated seats to rear demisters to the sunroof. (although two window regulators have been replaced).

Downsides are the same.
Speed, Power (reflects in economy) Size (harder to park in town). As everything works there is no need to get another car!

Economy is between 18-28 mpg; but for a 2.9 litre 24 valve V6 that perhaps is reasonable.

Before I owned this Citroen XM, I owned a 1989 Citroen XM (also a 3 litre V6) manual 12 valve series one. The range on that was 525 miles achieved travelling around UK and Ireland.

The range on this 24 valve automatic Citroen XM is between 330-400 miles. That is what doubling your valves does, coupled with an automatic (all be it very good) transmission.

Incidentally my suggestion is to go for the user friendly automatics. The Citroen XM's parking brake is not a handbrake; but a footbrake parking brake; coupled with a dashboard mounted hand release. This means on manual cars you have to operate four pedals and also a hand lever release during an uphill stop/start manoeuvre. You have to think in advance.

At least on the automatic you have only three pedals to juggle (the third pedal being the parking brake).

Yes I would recommend these cars, but only to people who have some knowledge on the science of Citroen. People that know what a relay is, and know what an earthing block is, so they can tap it once or twice a year, when the car will not start! (Because that is all that you need to do)


Would I have the confidence to set off and drive around the world in it? Yes
reviewed by Spanner on 14 February 2013
Write your review
Just reviewed...